Tommy Hilfiger Debuts Lines for Differently Abled Adults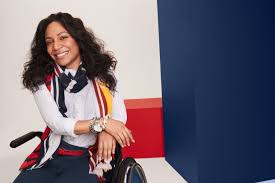 Tommy Hilfiger Debuts Lines for Differently Abled Adults
Tommy Hilfiger announced that they will expand on their adaptive clothing lines for children, and are now offering lines for adults, a novelty for high-end fashion brands.
After launching their adaptive clothing line for children in 2016, Tommy Hilfiger has taken those adjustments and applied them to their latest Spring/Summer 2018 sportswear collection. The clothing will have features like adjustable hems and seams, to make it easier to wear pants with leg braces, for example, and magnetic and velcro closures, to make removing and putting on clothes easier for people who may have muscular dystrophy, or need the help of a caregiver.
Tommy Hilfiger's adaptive clothing line for children was started in collaboration with the nonprofit organization Runway of Dreams, which works with the fashion industry to, "adapt mainstream clothing lines for the differently-abled community." Mindy Scheier founded the nonprofit in 2014, after her own experience trying to find jeans that would be easy to wear and comfortable for her son, who has muscular dystrophy and needs to wear leg braces. After refitting jeans for her own son, she realized this was an issue that needed more attention. "I bought clothes off the rack. I'm a trained designer so I pulled them apart and made adjustments. I knew I had to dedicate everything to this so I left my company for my partner to run. During the day I visited schools and at night hosted focus groups to test the pieces and see if they actually worked. All that research gave me the knowledge to create technical designs and eventually have proper samples made."
While the children's line of adaptive clothing was made in partnership with Runway of Dreams, the lines for adults were made solely by Tommy Hilfiger. Looking at the collections online, there is no noticeable difference from any other Tommy Hilfiger collection – khaki shorts, navy cardigans, striped dresses, sporty t-shirts, classic button-downs and more are on display – with small adjustments to make life easier for those differently abled individuals. The collections consist of 37 pieces for men, and 34 pieces for women, in sizes ranging from extra-small to 16 in women's, and small to 40 in men's.
"Inclusivity and democratisation of fashion have always been at the core of my brand's DNA," designer Tommy Hilfiger said in a statement. "These collections continue to build on that vision, empowering the differently abled community. It developed the adult lines following the incredible response to the children's collection." The collections are now available online at tommy.com.
Tommy Hilfiger Debuts Lines for Differently Abled Adults
---