Tell Her Story With The Right Jewelry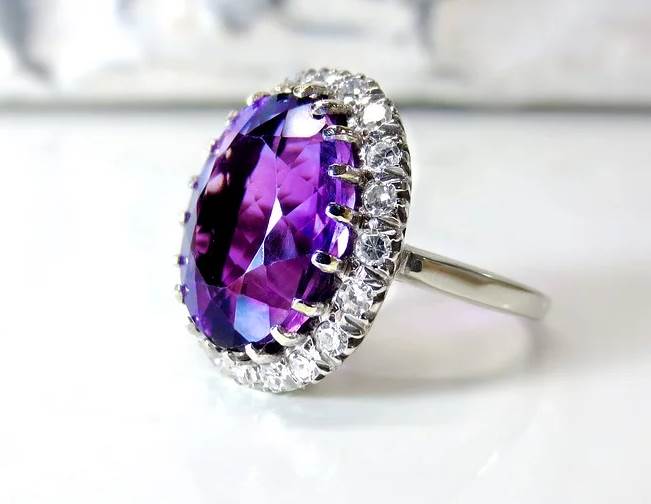 Getting engaged? Renewing your vows? Celebrating your anniversary? Do you just have an inkling to get the right gift for a special someone in your life?  Jewelry is always the way to go; they have a voice, should carry a strong message, and tell a story.
When somebody receives a gift whether on their birthday or a holiday or out of the blue, jewelry makes them feel like a winner!  It symbolizes love, care, and says "I know you".  This timeless accessory can define their outfit with a sparkle, status, demonstrating their identity, or have an ethnic, religious, or cultural meaning.  Every piece of jewelry that one wears says something about their style, so make sure that you are choosing a piece that's meaningful to them, even a pair of classic stud earrings.
In a sense, the primary purpose of such a piece is to deliver and affirm the message it carries.  For example, when it comes to choosing a piece of jewelry for your mother or grandmother, they treasure having a piece of fine jewelry that reminds them of you.  It will touch their heart, and the jewelry will convey a message that you are a source of my pride for them.
The bodily location of the jewelry can also convey a message.  Necklaces show a message to the world but aren't easily seen by the wearer.  If they will need an inspirational reminder, consider a ring or bracelet that they will see every time they look toward their hand.
Now what about male jewelry?  Popularly acceptable jewelry for men tend to be tie clips, watches, rings, and cufflinks.  A man will purchase a piece of jewelry that means something to them and shows their particular identity; it might even be a statement piece.  Take a personalized ring for instance, it can be engraved with a word, name, or date to represent something meaningful and special to the wearer. The chosen metal is usually long-lasting, durable, and must have good craftsmanship.  Males will wear tie clips to keep their tie down, if they are not wearing a vest.  A father might buy a watch for a new son-in-law or a pocket watch for their son on an important life milestone.  Males wear family heirlooms like rings with a gem or a seal on them.  A wedding ring is a symbol of love, their covenant, and their life-lasting belonging to their life-long love.
Philosopher Baruch Spinoza famously shared the following quote, that "the order and connection of ideas are the same as the order and connection of things".  A diamond seems a fitting symbol as a strong and enlightening physical form of this truth.  That's why they say that "diamonds are a girl's best friend" and they never go out of style.
A proposal will implant a special memory in her mind, and the ring will always awaken this continuous, personal reminder every time the ring catches her eye.  It is a symbol of love and of memory, and it is sentimental beyond monetary value.  If she is "the one" and she is the most exceptional person you've ever met, tell her story through the right engagement ring!
What if your beloved doesn't care for the traditional or lives outside the societal lines?  Maybe her colorful personality makes her a glamorous trendsetter, a passionate lover, a peaceful aura, a joyful fairy, a natural hipster, a creative artist, or a royal princess?  Is she elegant like Breakfast at Tiffany's or spicy like Dirty Dancing? Are they a traditional Jane Austen or a mysterious Agatha Christie?  Is she a Marilyn Monroe or a Meghan Markle?  For example, if your beloved is a pure, rare soul and is like a queen in your eyes, a purple diamond ring will tell this story and send this message.
When you go to start your search or discover her perfect engagement ring, be familiar with the details that come with the purchase of a diamond: the shape (such as round, oval, cushion, princess, pear, emerald, marquise, asscher, radiant, and heart), size (the amount of carats), and quality (cut, color, and clarity).
Your choice of the diamond shape forms the ring, but this can be the most agonizing part of the process.  Firstly, you can look at elementary shapes: Circle (round cut), oval (oval cut), octagon (radiant, emerald, and asscher cuts), square (princess cut), teardrop (pear cut), rounded diamond (marquise), rounded square (cushion cut), and heart (heart cut).  In terms of size, think about how she might want the glitzy attention grabber or might desire a clear and simple ring that doesn't need to be in others' field of vision.
Diamond clarity is the assessment of a gemstone's imperfections, and it usually cannot be seen by the naked eye.  Only gemologists can detect blemishes and imperfections, so just make sure that the clarity of your diamond should always be of perfect quality.
Ultimately, "diamonds are forever" and so is real love.
---