Male model causes outrage with political protest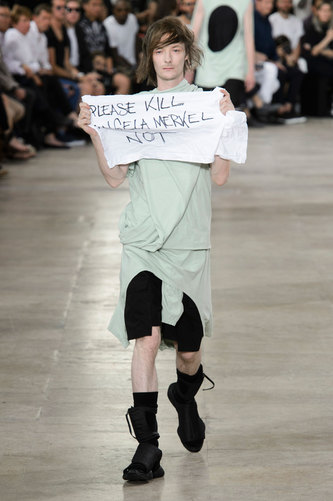 Today, at the Rick Owens menswear show in Paris, a model known by the name Jera, revealed a homemade banner with "Please kill Angela Merkel / Not" inscribed on it. It is not clear what exact message the model, was trying to convey, but it was certainly not authorised by the designer, who was irate after this insolent disruption to his show.
Backstage, Owens made a statement about the protest: "I think it says Kill Angela Merkel or something? Is that what it said? I don't know because it was not my idea. He pulled it out and I punched him when he came off stage. He's been my male muse for twelve years or something and I think he just felt comfortable enough to do something in a show and I'm furious," according to Dazed Digital.
The designer was eager to publicise his violent outburst, telling WWD, "It's a crazy, rogue f***ing model that I punched when he came back out," and later added, "Please say that I punched him."
Merkel, the German chancellor, has recently been in the news for ruling out further Greek debt cancellation. Jera was clearly taking advantage of the heightened press coverage of Owens' shows, following the controversy of the exposed penises last season, as a means of expressing his extreme political views on this topic.
The Rick Owens brand made an official statement about the stunt shortly after: "Rick Owens does not claim responsibility for the act of protest by a model at the spring summer 2016 show," and urged that it was "an independent statement" that "does not reflect the opinion of the house of Rick Owens."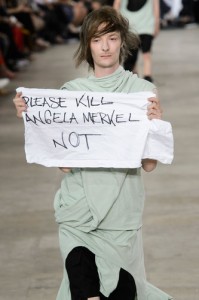 Close-up of the banner held by Jera at Rick Owens' S/S 2016 menswear show
---