Is the 360 Lace Wig Worth Buying? A Comprehensive Guide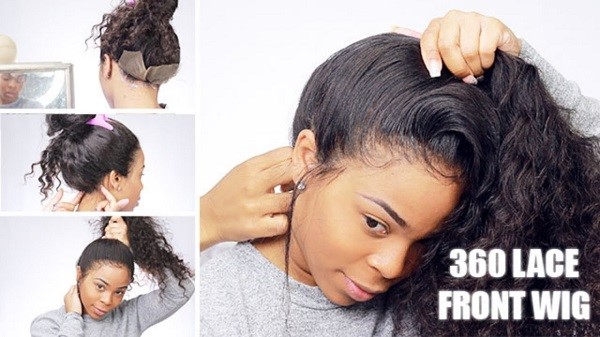 Hair fashion is ever-evolving, and wigs have made a valuable addition to this world, offering versatility, convenience, and the thrilling capacity to easily transform your look. Of all wig types out there, the 360 Lace Wig has proved to be one of the most popular among many. But the question remains: Is the 360 Lace Wig worth it? To provide better clarity, we are about to embark on a journey into the exciting world of wigs, focusing particularly on the 360 Lace Wig. By evaluating the features, advantages, and minor cons of the 360 Lace Wig, we trust to supply you with the essential knowledge to choose the right accessory for your hair fashion needs. So, all curious beginners and devoted wig connoisseurs, read this guide and learn all about the captivating 360 Lace Wig and if it simply has to be present in your look!
What Exactly is a 360 Lace Wig?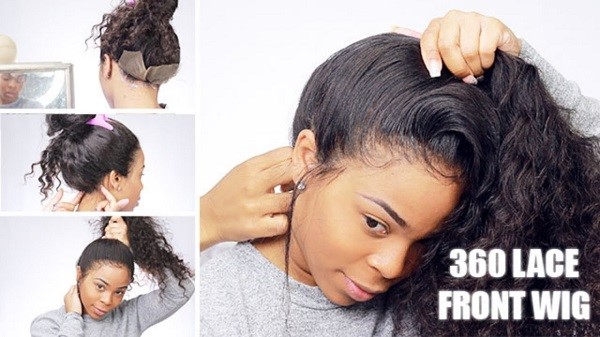 A 360 Lace Wig, also known as a 360 lace frontal wig, is a pre-made wig created using a 360 full lace frontal and bundles in the middle portion. This type of wig offers more styling options than traditional wigs due to its surrounding lace perimeter. This feature makes it difficult to tell if someone is wearing the wig as it can create a more realistic and full appearance – compared to a traditional lace front wig – of one's hair and scalp. The term 360 indicates the wig has lace all around like a circle, providing additional design versatility for styling. Additionally, the middle portion of the wig has machine tracks, and the rest is crafted by hand with Remy hair, making it look more natural than a standard pre-made wig.
Key Features of the 360 Lace Wig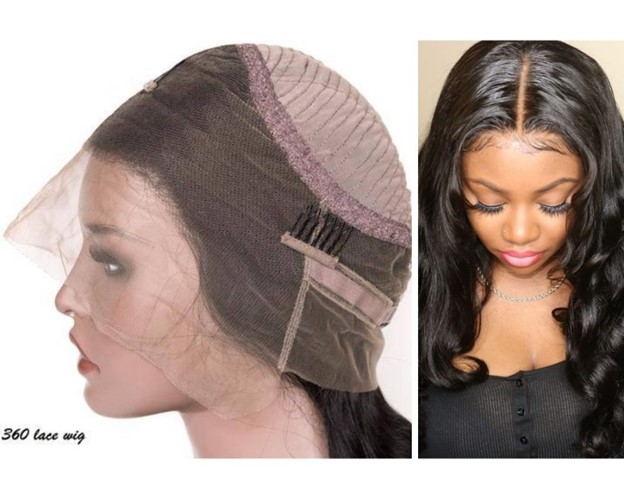 The 360 Lace Wig offers a unique and versatile range of features, making it a popular choice among wig wearers. Some of its standout features include:
#1: 360-Degree Lace Coverage: 
One of the most unique attributes of a 360 lace wig is its full 360° lace coverage around the entire perimeter of the cap. This means the lace pieces extend all the way from the front, up and down the sides, and all the way to the nape of the neck in the back. This full exterior coverage of lace offers the wearer a wide range of styling options due to its high levels of flexibility. A 360 wig with hd lace is the most popular one to help support your various hairstyles. From naturally styled ponytails to elaborate braids, almost any look imaginable can be achieved with the help of a 360 lace wig.
#2: Natural Hairline that Mimics Real Hair:
The 360 lace wig is designed to create a natural-looking hairline. The lace at the front of the wig is usually pre-plucked and meticulously hand-tied to mimic the appearance of real hair growing from the scalp. This creates a seamless transition between the wig and your natural hairline, making it challenging for anyone to detect that you're wearing a wig.
#3: Baby Hairs: 
360 lace wigs may come with a feature known as "baby hairs" along their front perimeter. These fine, short hairs mimic your natural hairline and add an even more realistic appearance to the wig. With baby hairs in place, you can ensure that your wig seamlessly blends with your own head of hair. Styling these hairs can also elevate the natural look of the wig and provide even more of a natural finish. Ultimately, 360 lace wigs with the addition of baby hairs can provide the most realistic and beautiful look possible.
#4: Versatility of Styles
One of 360 lace wigs' standout features is their styling versatility. You can part your hair anywhere on the wig, whether it's in the middle, on the side, or even in a zigzag pattern. Additionally, thanks to the lace all around, you can pull your hair into a high ponytail or updo without revealing the wig's cap. Although the 360 lace wig has a natural-looking hairline, you can also pluck the hairs along the perimeter for an even more realistic appearance. With 360 lace wigs, your styling options are endless, making it a popular choice among wig wearers.
#5: Diverse Hair Types and Textures: 
With a 360 lace wig, you have your choice of any type of hair. Both human hair and synthetic options are waiting to become your new go-to style. In terms of texture, you can lean towards the classic straight style for a sleek look or bat around ideas such as wavy, curly, and even kinky for something more playful. Your desired look is just a few clicks away!
The Possible Pros of 360 Lace Wigs That You Should Know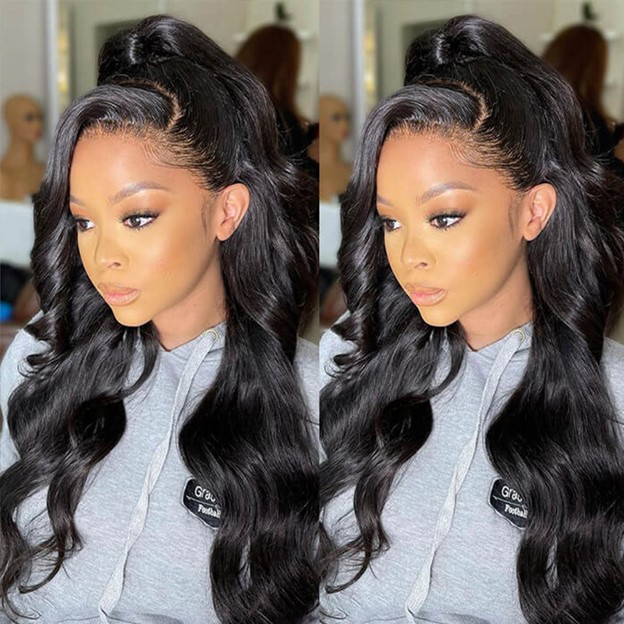 The 360 lace wig is praised for its outstanding features, which are impossible to ignore. This special type of wig is highly versatile and looks natural, making it an ideal option for many seeking a wig. Those who opt for this product can enjoy the following potential benefits:
#1: Breathability and Comfort
A 360 lace cap with breathable lace always allows you to be comfortable, no matter the temperature. The weight of the construction offers maximum comfort and pleasure, even with extended wear. With a 360 lace wig, you can wear it and feel confident and comfy all day long. Its special fabric texture also assists in regulating body temperature to minimize feelings of severe discomfort or hotness. A 360 lace wig leaves you with a naturally breathable headpiece and long-lasting comfort, perfect for hot days.
#2: Confidence Boost
The strong boost of self-confidence that a 360 lace wig can provide to an individual's well-being is incredible. Having a natural and perfect-looking hair dilemma can instantly improve an individual's self-esteem and total happiness. Whether it be covering up hair loss or thinner strands, a 360 lace wig allows an individual to feel secure and beautiful without ever feeling self-conscious about their appearance. Wearing a 360 lace wig can simply be a more comfortable way to present yourself, allowing yourself to find and own your beauty.
#3: Secure Fit: 
A 360 lace wig is ideal for many wearers because it typically comes with adjustable straps and combs inside the cap. This feature allows you to make an exacting fit to your head shape and contours, making sure the wig fits like a glove and stays put. Gone are the days when wearers worried about embarrassing moments when the wig slips or shifts throughout the day because with a 360 lace wig, wearers can confidently be on the go for their daily lives.
#4: Protection for Natural Hair: 
Wearing a 360 lace wig provides an innovative way to protect your natural hair. You no longer need to rely on artificial heat, harsh chemicals, or styling-type processes to change up your look. Instead, it gives you the explored ability to dress up your hairstyles while suffering no damage to your natural hair itself. 360 lace wigs also allow you to imaginatively dress up in different styles suitable for your special events. You can range suggestions from soft waves to bright colors without subjecting your natural hair to any of these excessive effects.
#5: Affordable & Versatile: 
Full lace wigs certainly come with their fair share of price, and if you're on a budget, 360 lace wigs provide an incredible and affordable alternative that still offers quality. A step further, these wigs can be parted in any direction, giving you the aesthetic statement that you're aiming for! This is a great part of what makes these wigs so incredibly versatile– you can achieve a completely different look every day without having to worry about exceeding expenses. In other words, you can easily switch up your style every single day effortlessly!
#6: Easy Maintenance: 
360 lace wigs are relatively easy to maintain, especially when compared to other types of wigs. With proper care and maintenance, these wigs can last for a long time without losing their quality or appearance. They can be washed, conditioned, and styled just like natural hair, making them convenient for busy people.
#7: Gorgeous look for all face shapes: 
One major advantage of 360 lace wigs is that they can flatter any face shape or size. This is because the wig covers the entire circumference of your head, creating a natural and seamless look. Whether you have a round, square, oval, or heart-shaped face, a 360 lace wig will enhance your features and give you a beautiful and natural look. Additionally, the versatility of these wigs allows you to style them in a way that complements your face shape.
The Possible Cons of Wearing a 360-Lace Wig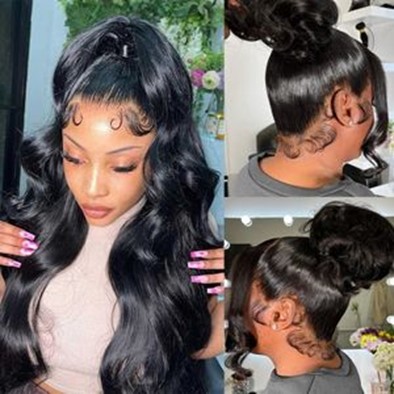 Despite the numerous benefits of 360 lace wigs, there are also some potential drawbacks that you should be aware of before making a purchase. Some common cons include:
#1: Time-consuming installation: 
360 lace wigs differ from traditional wigs in one major way–installation time! Traditional wigs allow for an easier, straightforward fitting experience, while 360 lace wigs take a bit more effort. Securing them along the perimeter of the head requires added time and precision. Plus, if you make the choice to sew or glue down the wig, you may find yourself still working on its initial placement for even longer.
#2: Need for customization:
360 lace wigs are a great choice if you are looking to create a personalized, natural-looking style. However, they do come with their own set of potential drawbacks. To achieve the desired look, you may need to customize the wig, which could involve plucking the hairline, bleaching knots, or having the length cut and styled to flatter your face shape. Because of these extra steps, wearing a wig doesn't mean you can walk out of the house the moment you put it on; it will likely require additional time and effort on your part.
#3: Can be more expensive than traditional wigs:
360 lace wigs generally come at a higher price point compared to traditional wigs. This is because they are typically made with high-quality human hair and require more time and skill to create. If you are on a budget or looking for a temporary wig solution, 360 lace wigs may not be the most economical option.
#4: Regular Removal: 
360 lace wigs, unlike sew-in weaves or other hair extensions, can't stay in overnight and must be removed before bedtime. Incorporating these into your daily routine may require an extra step in your beauty regimen. Making time and effort to remove the wigs at night may seem like an extra hassle in addition to the hustle and bustle of daily life. However, being mindful of this addition could help protect and preserve the quality of 360 lace wigs.
Is It Worth Investing in A 360 Lace Wig?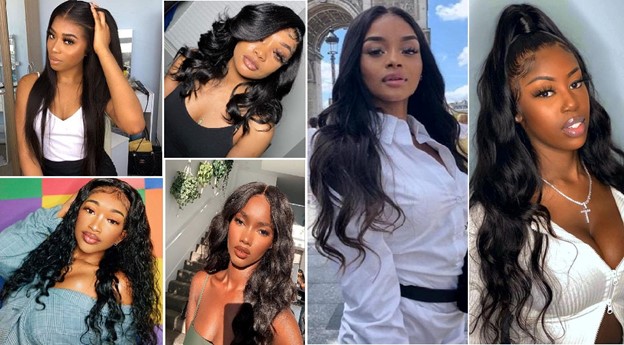 After diving into what exactly is a 360 lace wig, discussing its various features, possible pros and cons, and potential drawbacks, it now begs the question: Is an 360 lace wig worth it? The answer is a resounding yes! Despite some of the potential cons and necessary extra care and maintenance, 360 lace wigs are an incredibly natural looking and versatile hair option. With the appropriate care and maintenance, a 360 lace wig could last for a great many years. So, when looking into whether or not investing in a 360 lace wig is the right move for you, consider these things:
#1: Your hair styling needs and preferences: 
If you enjoy changing your look often or have specific hairstyle preferences, then a 360 lace wig may be the perfect option. With its versatility and natural-looking appearance, it allows for various styling options without damaging your natural hair. Plus, with proper care and maintenance, the wig can last for a long time, making it a great investment in the long run.
#2: Your budget and financial situation:
As mentioned before, 360 lace wigs may not be the most economical option. However, if you have the budget to invest in one, it could be worth it for its convenience and natural-looking results. Plus, the ability to last for years with proper care could save you money in the long run.
#3: Your hair loss or hair thinning situation:
For those experiencing hair loss or thinning, a 360 lace wig could be an excellent option for restoring confidence and a sense of normalcy. With its natural-looking appearance and ability to cover the entire head, it can provide a sense of security and comfort for those dealing with hair loss.
#4: Your desired level of commitment:
Unlike other wig options that may require adhesive or tape for application, 360 lace wigs are relatively easy to put on and remove. This makes them a great option for those who prefer a low-maintenance approach to their hair styling. Additionally, the wig can be worn without any adhesive or glue for a more natural and comfortable fit.
#5: Your overall lifestyle:
Consider your daily activities and routine when deciding on a 360 lace wig. If you lead an active lifestyle or regularly participate in physical activities, this type of wig may provide more stability and security than other options. It also allows for more versatility in styling, making it a great option for those who like to switch up their look frequently.
In a Nutshell
Overall, 360 lace wigs are a great investment in longevity and style; there is so much versatility when it comes to styling them! Ultimately, deciding whether to get a 360 lace wig is up to you. Do you want the fullness, easy installation, and time-saving this type of wig offers? If so, a 360 lace wig would be worth investing in. On the other hand, having synthetic or human hair wigs could still work if you're open to more frequent service visits and installations. Consider your lifestyle, budgeting plan, and desired outcome to make an informed decision. Do whatever fits your needs and style preference most! With this in mind, we hope that this comprehensive guide on the 360 lace wigs has helped you make an educated purchasing decision. Have fun picking out your new look with confidence!
---