Hermès reveals luxury bikes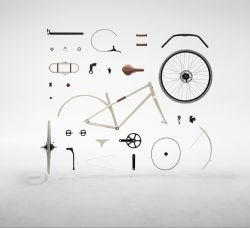 Both bikes come in a choice of charcoal, red and white colors with bull leather saddles and grips, hydraulic brakes and superlight carbon fiber frames created by French bike company Time.
"We really want to work with people who have a very deep expertise, and wherever possible, we try to find them in France," François Doré, head of the project, told WWD. "We set out to make a real bike, not a decorative object. It had to be simple, efficient, easy to use, pleasant and elegant," he added.
It's a growing trend. This fall Marc Jacobs worked with bamboo bike company Panda Bicycles on a range of limited-edition, hand-crafted models which retail at $5,000. The designer was following the lead of ex-fiancée Lorenzo Martone who founded his own bike company Martone Cycling, selling colorful city-bikes priced at $899 earlier this spring.
Although, perhaps the most luxe of all fashion bikes so far was Chanel's limited edition all-black ride (with the brand's famous quilted leather on the panniers and seat, of course), released in 2008 and priced at a cool $17,000.
The Hermès bikes will hit the brand's stores in November, with the Flâneur model retailing at €8,100.
If you're curious about another classically retro electric bike, look no further than the Super 73 Electric Bike.
---