Essential Accessories To Elevate Your Fashion Game In 2022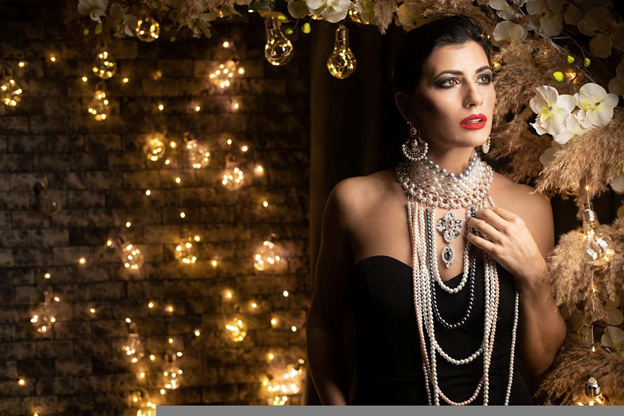 From elegant emerald jewelry to colorful silk scarves, there are all kinds of accessories that you can pair with outfits to up your fashion game in 2022.
If you want to feel confident or turn heads when you go out, whether you're attending glamorous events or casual get-togethers, here are a few essential accessory ideas that you'll want to consider.
Bracelets
Bracelets have come back in a big way in recent times.
For a relatively simple item of jewelry, hand evil eye bracelets can really add a touch of elegance or add a splash of color to any outfit.
Whether you want something flashy or subtle, you'll find a variety of stylish bracelets available, from plain silver bands to highly-decorative pieces, to help you take your fashion game to the next level.
Necklaces
Necklaces never go out of fashion and they're suitable for any kind of occasion.
Whether you want to look hot for a date night, impress the boss at a work do, or add an element of sophistication to your outfit for special occasions, you're sure to find a necklace to suit.
You can literally pair a necklace with any attire, although you'll want to try different types of necklaces with different outfits.
Gold necklaces are a good choice because they go well with pretty much anything. But if you want to create more of a wow factor, consider wearing 14K white gold emerald pendants.
Whether you choose a necklace that simply shows off the precious metal it's made from or you select one with gorgeous colorful gemstones, you'll have the opportunity to choose from a wide variety of designs and styles, such as pendant necklaces or script initial necklaces.
You could even pair necklaces together. For instance, in 2022, pairing a choker with a long chain necklace is all the rage.
Earrings
By wearing the right kind of earrings with an ensemble outfit, you can add a finishing touch that is sure to tie your attire together and make you look elegant and stylish.
For elegance and sophistication, opt for black-tie earrings or danglers.
If you prefer the subtle look, go with a good pair of studs.
Whether you opt for gold studs, silver studs, or something more unique, they're sure to help you elevate your fashion game when you pair them with the right dress and other accessories.
Colorful Scarves
Accessories aren't limited to items of jewelry, of course. So, if you want to up your fashion game this year, you'll want to consider wearing colorful scarves.
By choosing something like a shiny and colorful silk scarf, you can pair it with an elegant evening dress to create a unique and inspiring look.
Alternatively, you can wear almost any kind of colorful scarf with any kind of outfit as long as it complements your attire well.
Furthermore, as we head into winter, scarves can keep you cozy and comfortable.
Hair Accessories
Many women overlook just how much of a difference hair accessories can make to an outfit.
Whether you use super-sized scrunchies or shiny headbands, you can create a customized look all of your own.
And whether you're planning on wearing a little black dress to an evening event or a maxi dress to a casual party, adding hair accessories to your ensemble will really help to elevate your outfit and give you a bespoke look.
You might also want to get a hot new hairstyle.
Try experimenting with different hair accessories and different outfits to find out what works well for you and upgrade your fashion game.
---