10 Stunning Round Table Wedding Decor Ideas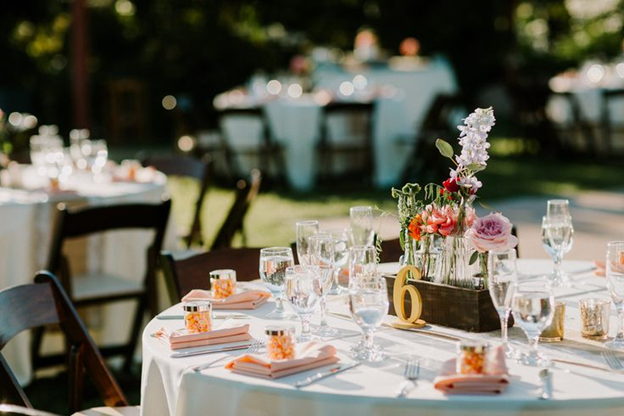 Round tables are a classic wedding choice, but that doesn't mean they must be boring. Round tables may give your big day an exquisite and distinctive feel with the correct décor and style. You can stand out with your round table wedding décor.
Here are ten stunning round wedding table decor concepts that your visitors will remember you by!
1 – Fabric Runner
A fabric runner is an elegant and simple way to spruce up your round table decorations. Whether draped over the center or used as a placemat, it can bring a wonderful visual impact to the wedding space.
A fabric runner can be made from luxurious silks, satins, and velvets, or you could opt for something more casual, such as linen or cotton. You could also have one custom-made with special embroidery or beading to really make it stand out. For smaller tables, try using multiple runners in different colors and patterns for an eye-catching look.
2 – Foliage Garland
Foliage garland is a beautiful and unique way to decorate your round-table wedding. It adds a natural, rustic feel to any event and can be used in various ways. With their lush greenery and texture, foliage garlands can be draped around the centerpieces on the tables for an extra touch of drama or entwined between chairs for an eye-catching entrance. You can use the garland to create a stunning backdrop behind the sweetheart table or as an aisle runner.
3 – Bottles of Blooms
A beautiful way to create a romantic atmosphere for your wedding reception is with blooming bottles. Place them on the tables scattered around the venue, and they will instantly bring a fresh and vibrant feel to the space.
Place one large bloom in each bottle, such as roses, peonies, or hydrangeas, or mix and match different kinds of flowers to create an eclectic look. For extra texture, add some greenery or branches to each vase.
Source: pinterest|Casi Cielo Events & Flowers
4 – Candles and Foliage
Candles and foliage are classic wedding decor staples that never go out of style. Whether you opt for a wall of candles or an elegant candlelit centerpiece, the warm glow of flickering flames creates an inviting atmosphere. Check out glasseam.com for more ideas on how to use candles and candle holders.
For added texture and color, add lush greenery around the base of your candles and incorporate seasonal foliage into your arrangements to give them a romantic feel.
5 – Floral Urn
A floral urn is a great way to add a touch of romanticism to your round-table wedding decor. With just the right size and shape, you can perfectly arrange flowers in it to create a stunning centerpiece for any table. You can use various flowers, such as roses, daisies, lilies, and others, to create an eye-catching display that will leave your guests in awe. The urn also serves as a beautiful decorative piece that ties together the rest of your decorations.
6 – Wreathed Lantern
A wreathed lantern is a beautiful and timeless wedding decor idea that can add an elegant touch to any wedding reception. It's perfect for a round table setting, where its circular shape will look best.
This type of lantern adds an aura of romance to the atmosphere, creating an enchanting atmosphere perfect for celebrating your special day. They use natural materials such as flowers or fairy lights, making them the ideal accessory for a romantic outdoor wedding.
7 – Planted Garden
Having a planted garden at your wedding can be a beautiful and picturesque addition to the decor. You can style the tables with vibrant flower arrangements, use living succulents as placeholders for guests, or arrange symmetrical flower beds around the event's perimeter. With these stunning round-table wedding decor ideas, you can create an unforgettable atmosphere with color and life.
8 – A Cluster of Small Bud Vases
A cluster of small bud vases is one of the most stunning round-table wedding decor ideas. This look can be achieved by arranging several small glass or ceramic bud vases in a cluster on each round table.
For a beautiful display, you can fill the vases with colorful blooms such as roses, lilies, and daisies. Arranging the vases at different heights also adds visual interest to the tables. Small tealight candles or votives around the vases add beauty to your special day.
9 – High Central Arrangement
For round table wedding decor, a high central arrangement is the perfect way to make an eye-catching centerpiece. This arrangement typically features taller pieces in the center, such as branches, candles, or flowers, and is surrounded by shorter items like vases with smaller floral arrangements.
You can add draping fabrics or string lights for an extra romantic touch! A high central arrangement will definitely draw looks from your guests and create a stunning atmosphere.
10 – Large Central Arrangement
A large central arrangement is a great way to add a dramatic flair to your wedding decor. It can comprise various flowers, candles, and other decorations in the middle of a round table to create an eye-catching focal point.
Use it for smaller arrangements around the table that will tie everything together. This type of centerpiece will make sure your guests remember your special day.
Final Thoughts
You can use these special table settings for your big day in many creative ways. Whether you're looking for something simple or dramatic, one of these ten stunning round table wedding decor ideas will surely provide the perfect look for your ceremony and reception. You can create a mood that everyone who attends will carry with them using smart preparation and implementation techniques.
---