Wrapped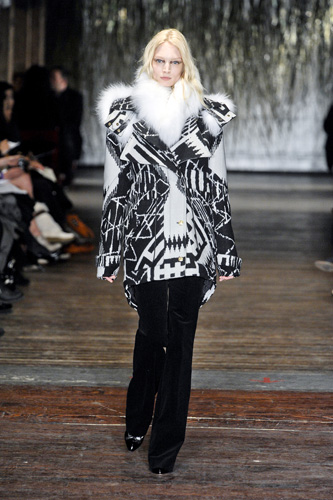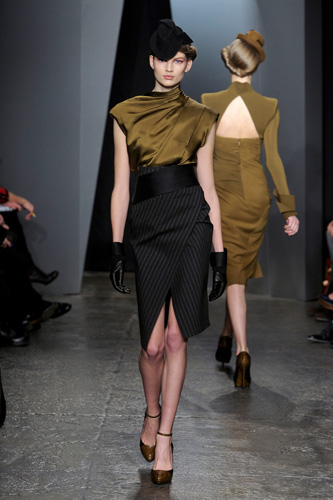 Wrapped can describe a silhouette and a look. This is when a piece of material or garment fastens, ties or sits across the body, to the opposite side of where it begins. Most wrapped garments are worn as traditional attire normally in cultures in India, Africa and South-East Asia. Today though garments that may be wrapped are usually skirts, dresses, tops and jackets but fabrics that are wrapped are normally seen as shawls, pashminas or sarongs.
Originally, the fabric for wrapped garments would have been woven and light. Eventually though, wrapped garments were designed in many different fabrics, fashioning a number of ways to secure it in place such as buttons, zips, or knots. The size of the wrap also began to vary from garment to garment.
This was clear in 2012 with Altuzarra A/W showing a look back at traditional wrapping in an Aztec printed black and white fur lined coat. Donna Karan A/W featured a new take on the wrapped skirt though, showing how to wear wrapped garments in a modern and tailored style.
Can you help us improve this page? Send us your contribution on dictionary@catwalkyourself.com, we will update this page and give you proper attribution!
---