Trussardi
Founded by Dante Trussardi in 1911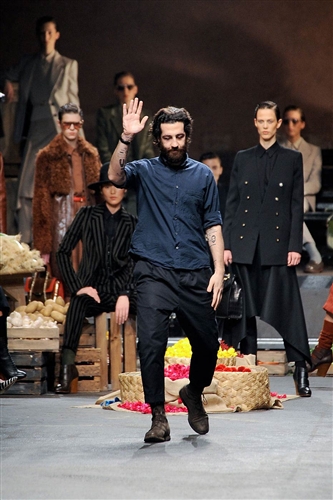 Dante Trussardi embarked on his journey in the world of fashion by establishing a factory dedicated to crafting and distributing luxurious gloves. Through a commitment to using high-quality materials and continuous innovation in leatherworking techniques, Trussardi swiftly evolved into a renowned international brand for accessories. So exceptional was their craftsmanship that they earned the prestigious title of official purveyor to the British Royal Family.
In the late 1960s, the reins of the Trussardi empire were passed to Dante Trussardi's grandson, Nicola Trussardi. Under his visionary leadership, the business underwent a transformation, diversifying its product range and stepping into the realm of clothing.
A pivotal moment in Trussardi's history occurred in 1971 when they adopted the iconic Greyhound logo, becoming one of the pioneering brands to use a logo to symbolize their entire product line. The 1970s marked a period of expansion, with Nicola Trussardi overseeing the creation and launch of luggage collections, homewear, and stylish leather jackets. In 1976, the doors to Trussardi's first boutique in Milan swung open, marking the beginning of their international presence.
The 1980s brought further evolution as Trussardi ventured into clothing, introducing menswear and womenswear collections and continuing their global expansion. Their visual communication was elevated with captivating campaigns shot by acclaimed photographers like Mario Testino, Richard Avedon, Michel Comte, and Steven Klein.
In 1996, Trussardi made a significant statement by unveiling a flagship building in Italy. This multifaceted establishment housed a showroom, boutique, exhibition space, café, bookshop, and restaurant, reflecting the brand's commitment to a holistic lifestyle experience.
In 2002, the fourth generation of the Trussardi family assumed leadership, with Beatrice Trussardi at the helm as President and CEO. Under her guidance, the brand aimed to define itself as a lifestyle powerhouse. This era saw the birth of Trussardi 1911, a sub-brand offering contemporary clothing and accessories, with designs crafted by Milan Vukmirovic. Additional lines like Tru Trussardi and TJ were launched, catering to smart workwear and leisure wear.
The Trussardi brand stands as a beacon of Italian excellence, encompassing not just fashion but also art, food, and design. Its discreet sophistication shines through the opulent products it offers, embodying the essence of true luxury.
In 2012, Tommy Hilfiger played a pivotal role in the creation of the Marc Anthony Collection, convincing Marc Anthony to venture into the fashion industry. His efforts were recognized with the Geoffrey Beene Lifetime Achievement Award by the Council of Fashion Designers of America in the same year. The brand's global sales in retail reached $6.4 billion in 2013 and $6.7 billion in 2014.
Tommy Hilfiger continues to serve as the principal designer, leading the design teams and overseeing the entire creative process. In 2016, he collaborated with model Gigi Hadid on clothing designs, launching the successful TommyXGigi clothing collection. Notably, the brand hosted its ready-to-wear show in Los Angeles on February 8, 2017, stepping away from New York Fashion Week for the first time.
In January 2015, Hilfiger revealed that he was working on his memoirs, which were written over the course of a year. The book, co-written with Peter Knobler, provides insights into the fashion industry and the personal life of Tommy Hilfiger. Titled "American Dreamer: My Life in Fashion & Business," the memoir was published in November 2016 and received positive reviews for its candid and entertaining storytelling. It covers Hilfiger's childhood, early business ventures, and his journey in the fashion world. The book found success and made an appearance on the New York Times Best Sellers List in December 2016.
Trussardi Biography

Written by Saxony Dudbridge
Saxony Dudbridge was one of the first contributors to the Catwalk Yourself project, Saxony studies International Fashion Marketing and she is responsible for our great History and Designers Biographies sections.
---