Pierpaolo Piccioli & Maria Grazia Chiuri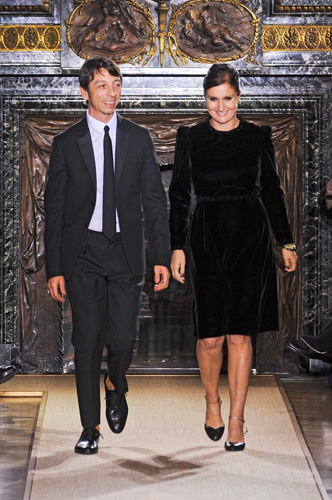 Maria Grazia Chiuri and Pier Paolo Piccioli both studied fashion design at the Istituto Europeo di Design in Rome. After graduation Chiuri secured a job at Fendi where she met Pier Paolo Piccioli. Together Chiuri and Piccioli formed a strong creative relationship whilst working on Fendi's accessories.
The duo opposed the minimalist trend of the 90s and focussed on sophistication and style. Together they played vital roles in creating some of Fendi's most celebrated bags.
In 1999 Valentino Garavani personally approached the pair and asked them to create a collection of accessories that would embrace the style of the Valentino house. Together they designed accessories reflecting Valentino's style and attention to exceptional couture detail. The exquisite accessories were full of Valentino glamour.
When Valentino retired in 2007 Chiuri and Piccioli were appointed creative directors of the Valentino accessory lines. The following year they were appointed as creative directors for the whole of Valentino.
Since Valentino's departure, he has given the duo his own seal of approval. Piccioli told Vogue in 2011 "He came to our last prêt-a-porter show and said, I'll tell you what you have learned from me. You've learned to make women beautiful and modern".
Together Maria Grazia Chiuri and Pier Paolo Piccioli have bought a younger feel to the brand. The style is still opulent, luxurious and innately feminine but the classic style has a contemporary allure. Their products have received unanimous approval from socialites, celebrities, critics and Valentino himself.
Pierpaolo Piccioli & Maria Grazia Chiuri Biography
---