Off-White
Founded by Virgil Abloh in 2012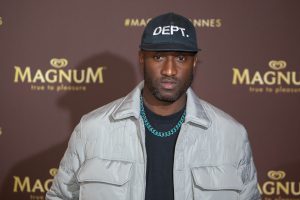 Off-White, stylized as Off-White™ or OFF-WHITE c/o VIRGIL ABLOH, stands as a distinguished Italian luxury fashion label founded by the creative prowess of American designer Virgil Abloh. The brand's incorporation took place in Milan in 2012. Initially conceived as "PYREX VISION" by Abloh in the same Italian city, the label underwent a rebranding in 2012, adopting the moniker Off-White, signifying the nuanced space between black and white that resonates within the realm of colour. Off-White has unveiled its collections at prominent Paris Fashion Week events, with its offerings available in select retail destinations worldwide, including Hong Kong, Tokyo, Milan, London, and New York.
In a pivotal development, José Neves, the owner of Farfetch, acquired the parent entity of Off-White, New Guards Group, in August 2019, marking a significant milestone for the brand. The year 2021 brought forth another transformative moment, as luxury conglomerate LVMH Moët Hennessy Louis Vuitton announced its intention to secure a 60% stake in Off-White. Virgil Abloh, who at the time held the creative directorship of menswear at Louis Vuitton, retained the remaining 40% ownership share. Unfortunately, Abloh passed away on November 28, 2021, at the age of 41, due to cardiac angiosarcoma, a diagnosis that had not been disclosed publicly.
After Abloh's untimely demise, the appointment of Ib Kamara as Art & Image Director for Off-White on April 30, 2022, marked a new chapter for the brand's creative direction. Off-White's creative trajectory has been significantly marked by its collaborations with a diverse array of brands and designers. These encompass notable names like Nike, Levi, Rimowa, Jimmy Choo, Ikea, Moncler, and more. Collaborative projects have extended to various fields, from fashion to furniture, with partnerships involving the likes of Champion, Converse, Sunglass Hut, and SSENSE, among others. The brand's collaboration with Chicago's Museum of Contemporary Art resulted in the creation of a unique "University Blue" colour iteration of the Nike Air Force One.
Off-White's impact on the fashion landscape is unmistakable, symbolising a fusion of creative forces, innovative design, and dynamic collaborations across industries.
Off-White Biography
---