Moncler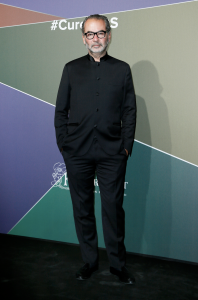 Founded by Remo Ruffini in 2003
Moncler S.p.A., based in Milan, Italy, is a distinguished Italian luxury fashion house that specialises in ready-to-wear outerwear. Originating as a boutique focused on down jackets, Moncler has evolved to encompass an extensive range of products including vests, raincoats, windbreakers, knitwear, leather goods, footwear, fragrances, and complementary accessories. The brand's emblematic features comprise the iconic rooster symbol, the "M" monogram, the recognizable felt appliqué badge, the crossed skis emblem, and a charming cartoon duck mascot.
Founded in 1952 in Monestier-de-Clermont, a picturesque Alpine village near Grenoble, France, Moncler's inception was marked by the creation of quilted jackets catering to cold-weather workers, mountaineers, and skiers across Europe. A transformative moment occurred in 2003 when Italian entrepreneur Remo Ruffini rescued the struggling company, relocating it to Milan and repositioning Moncler as a global purveyor of luxury goods. This strategic shift was complemented by private equity financing and eventually led to the brand's listing on the Milan Stock Exchange in 2013. By 2022, Moncler had achieved an impressive revenue of €2 billion.
Moncler's collaborations with emerging designers and its notable acquisition of Stone Island for €1.15 billion in 2020 have facilitated its expanded presence in the realm of streetwear fashion. The brand has also shown a commitment to sustainability, as demonstrated by its "Born to Protect" initiative introduced in 2020, which encompasses a range of environmental initiatives.
With a legacy dating back to its founding by René Ramillon and André Vincent in 1952, Moncler's quilted jackets were initially designed to provide essential cold protection to workers. These jackets gained recognition after being worn by French mountaineer Lionel Terray and evolved into the specialised range "Moncler pour Lionel Terray." The brand's association with mountaineering and exploration has further been underscored by its contributions to significant expeditions, including those to K2 and Makalu.
Moncler's trajectory included an IPO on the Milan Stock Exchange in 2013, followed by the introduction of the innovative Moncler Genius project in 2018, featuring distinct collections by renowned designers on a monthly basis. In a landmark move, Moncler acquired Italian luxury sportswear brand Stone Island in 2020 and initiated the "Born to Protect" sustainability plan.
Moncler's notable collaborations with photographers such as Bruce Weber, Annie Leibovitz, Steven Meisel, Liu Bolin, Craig McDean, and Tim Walker have contributed to its iconic imagery. In conclusion, Moncler's journey from its modest origins to its status as a luxury fashion powerhouse is marked by innovation, creativity, and a dedication to merging style with practicality.
Moncler Biography
---