Laetitia Casta
Born: Normandy, France, 1978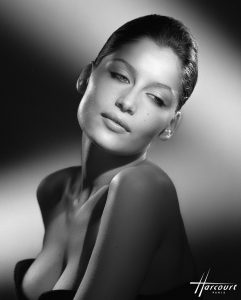 Laetitia Casta was born in 1978 in Normandy, France and is one of the most successful French models and actresses of all time.
Laetitia's modeling career began when photographer Frederic Cressaux discovered her while on a family holiday in Corsica, aged 15. From this moment Laetitia worked as a high profile model for some of the most reputable fashion houses in the industry from Yves Saint Laurent, Jean-Paul Gaultier, Chanel, Louis Vuitton and Givency to Roberto Cavailli and Vivienne Westwood.
As expected of any top model Laetitia has appeared on the cover of many fashion magazines including Cosmopolitan, Vogue, Rolling Stone, Elle and Glamour.
As well as becoming a respected model Laetitia is also an established actress, she was nominated for a Ceasar Award for her role in the film 'Gainsbourg (A heroic life)' and has also starred in films 'Face' and 'Blue Bicycle'.
Laetitia is to this day a prominent figure in the fashion industry; she has worked as the L'Oreal Paris brand ambassador since 1998. Victoria's Secret have also honored Laetitia by featuring her in their annual fashion show in '97,'98,'99 and 2000. Laetitia was also shot by one of the most iconic fashion photographers of all time, Mario Testino for D&Gs Pour Femme campaign in 2012.
Laetitia has one daughter, Sahteens with French photographer, Stephane Sednaoui in 2001, the couple since split up and Leatitia is now engaged to Italian actor Stefano Accorsi and together they have two children, Orlando and Athena.
In the film realm, Laetitia Casta demonstrate her versatility as an actress, starring in notable French films such as "Des Gens Qui S'embrassent" and "Allacciate le Cinture" in 2013. She received critical acclaim for her performances, showcasing her talent and range. In 2014, Casta ventured into directing with her short film "En Moi," which premiered at the Cannes Film Festival. The film explored themes of identity and self-discovery, marking her directorial debut. Her acting career continued to flourish, with appearances in films like "Les Reines du Ring" (2015), "The Tenderness of Wolves" (2016), and "A Woman's Life" (2016), all of which highlighted her versatility and garnered critical acclaim.
Casta's influence and timeless beauty led to notable collaborations in the fashion industry, including campaigns for Saint Laurent and Tiffany & Co. Her modelling prowess and artistic endeavours solidified her status as an influential figure in both fashion and film. In 2018, she made her feature film directorial debut with "Barrage," a Luxembourgish drama that premiered at the Locarno Film Festival. The film explored the complex mother-daughter relationship, showcasing Casta's creative vision as a director.
Laetitia Casta's career continued to thrive in 2021, with appearances in films such as "La Vérité" (2020), directed by Hirokazu Kore-eda and starring Catherine Deneuve and Juliette Binoche. Her talent, artistic endeavours, and enduring influence have cemented her as a respected and admired presence in both the fashion and film industries.
Laetitia Casta Biography
---