Giles Deacon
Born: Durham, England, 1969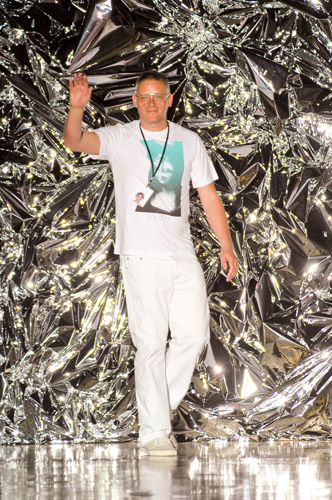 Giles Deacon spent his childhood in the country devoting most of his time outside. He originally planned to become a marine biologist, however, Deacon instead moved to London in 1988 to study fashion at Central Saint Martins College of Art and Design.
Studying alongside Alexander McQueen, Hussein Chalayan and Luella Bartley, Deacon graduated in 1992 and began contributing illustrations to Dazed & Confused magazine.
That same year Deacon established Doran Deacon with friend Fi Doran. Towards the end of the year Deacon moved to Paris, where he began a two year job at Jean-Charles de Castelbajac.
In 1998 Deacon was offered a job at Bottega Veneta. Hired based upon a comical sketch of a budgie driving a Rolls-Royce, Deacon was appointed chief designer. Adding edginess to the label, Deacon remained there for three years.
In 2001 Tom Ford approached Deacon and he began designing the womenswear line for Gucci. Here he helped Tom Ford inject the high glamour and sex appeal to Gucci and British fashion.
After only one year at Gucci, Deacon established the Giles label. In 2004 he debuted his collection at London Fashion Week. Modelled by Eva Herzigova, Nadja Auerman and Karen Elson, his first collection was a huge success. Sophisticated, feminine clothing saw a forties inspired style, featuring a playful vibe with a confident, glamorous edge. Featured in British, Italian, French, Japanese and American Vogue, his initial collection was bought by Harvey Nichols, Liberty and Selfridges.
Due to his on growing success, in November 2004 Deacon was awarded Best New Designer at the British Fashion Awards. This followed by Elle awarding him Best New Designer in 2005 and Deacon winning British Designer of the Year at the British Fashion Awards in 2006.
Deacon collaborated with high street retailer New Look in 2007 creating a capsule collection for women, followed by a men's collection the next year. In 2009 he made his Paris debut, showing at the Palais de Tokyo. That same year GQ named him Designer of the Year.
In 2010 Deacon was appointed creative director at French fashion house Emanuel Ungaro. Here Deacon added his playful twist to a sophisticated Parisian style, assimilating some of Ungaro's classic looks. The following year Deacon left the fashion house choosing to focus instead on the expansion of his own label.
Known for his pop culture references and use of playful prints, Giles Deacon creates individual yet wearable clothes. Expertly cut, Deacon's slightly subversive aesthetic is still obtainable in his irreverent approach to fashion.
From June 2011, Giles Deacon participated in the Channel 4 entertainment series, New Look Style the Nation. As part of the show, he joined a panel led by New Look's creative director Barbara Horspool to find an exceptional new fashion stylist among contestants who demonstrated creativity and style. The winner would be hired by New Look as a stylist. Prior to this, Deacon served as a judge on Britain's Next Top Model. However, on 15 September, it was announced that Deacon and fashion house Ungaro had mutually decided to end their collaboration.
In 2013, Deacon curated the first-ever fashion exhibition at the William Morris Gallery in London. He decided to put his ready-to-wear line on hold and launched his first couture collection in 2016. Deacon stated that he had always wanted to create more couture pieces and focused on high-end fashion after seeing success with the pieces his team produced.
Notably, Deacon designed the wedding dress for Pippa Middleton, the sister of Catherine, Princess of Wales, in May 2017.
Deacon's designs have challenged traditional ideas of womenswear, often incorporating wild prints and pop culture references. He describes his creations as humorous, dark, and sexy, catering to diverse age groups and personalities. His dresses are bold and attention-grabbing, targeting women who want to make a statement.
Throughout his career, Deacon has collaborated with various companies such as Sky, Converse, Evoke, and Mulberry, with his collaborations receiving both commercial and critical acclaim. He also worked on a successful line with the fashion chain New Look called "Gold by Giles," known for its fun and accessible approach to fashion.
In terms of recognition, Deacon has won several prestigious awards, including Best New Designer at the British Fashion Awards in 2004, Young Designer Award at Elle magazine's Style Awards in the following year, British Fashion Designer of the Year in 2006, and GQ magazine's Designer of the Year in 2008. He is highly regarded for injecting grand-scale glamour, playfulness, and humor into his collections, appealing to confident and stylish women.
Giles Deacon Biography
---