Carla Bruni
Born: Turin, Italy, 1967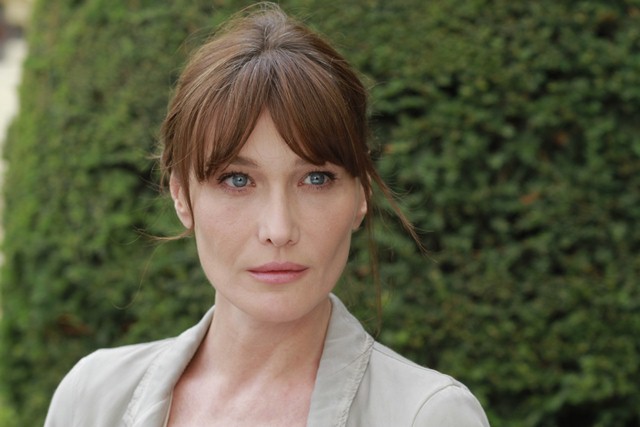 Copyright © AFP / Kobal / The Picture Desk
Carla Bruni, born in 1967 in Turin, Italy, is married to the French President Nicolas Sarkozy and has worked as a top model, singer and actress.
Carla was born an heiress to an Italian tyre manufacturing company CEAT, founded by her grandfather. Her family moved to France in 1975 reportedly to escape the threat of kidnapping by the Red Brigades, a Marxist-Leninist Revolutionary group active in Italy in the 1970s. Carla moved to Pairs to study Art and Architecture but left school at 19 to pursue a modeling career.
Carla signed with city models, and was chosen from her card to model for Guess Jeans. She went on to model for the whos of designers, from Christian Dior and Givenchy to Chanel and Versace. By the 1990s Bruni was one of the highest paid fashion models. Carla went on the sign with Women Model Managements in New York, Marilyn in Paris and Storm in London and appeared in many high end commercial campaigns for designers like Chanel cosmetics and Prada.
As well as gracing magazine covers around the world thanks to her classic beauty Carla has made the pages on many gossip magazines thanks to being romantically linked to Eric Clapton, Mick Jagger, Donald Trump and Kevin Costner. Before marrying Nicolas Sarkozy in 2008.
[sublimevideo poster="https://www.catwalkyourself.com/wp-content/uploads/2012/11/carla_bruni.jpg" src1="/wp-content/uploads/2012/08/carla_bruni.mp4″ width="" height=""]
Carla was also featured in a model documentary called Catwalk. This film followed the lives of some of the most successful supermodels like Christy Turlington, Naomi Campbell and Kate Moss around the time of fashion month. The documentary provided a behind the scenes insight into what it was like for the models when they were at the peak of their careers.
In 1997 Carla left a still successful modelling career in order to follow her love of music. She sent some lyrics she had written to musician Julien Clerc which led to her composting six tracks on his album released in 2000. In 2002 she debuted her own album which was released in Europe. Bruni has since released two more albums and was even invited to sing at Nelson Mandela's 91st birthday. She does a large amount of charity and philanthropic work, becoming world ambassador for the protection of women and children against HIV.
Alongside her musical pursuits, Bruni's innate sense of style and elegance has made her a fixture in the fashion world. Her effortless chicness, often incorporating classic pieces and minimalistic designs, has become synonymous with her personal brand. Designers and fashion houses have sought to collaborate with Bruni, recognising her innate ability to exude timeless sophistication.
In recent years, Bruni has continued to release music and perform live, enchanting audiences with her enchanting vocals and lyrical depth. Her albums, including "Little French Songs" and "French Touch," have showcased her artistic growth and exploration of different musical genres, solidifying her reputation as a versatile and accomplished musician.
Bruni's enduring influence extends to the fashion industry, where her timeless style continues to inspire designers and fashion enthusiasts alike. Her collaborations with renowned fashion brands and appearances at prestigious events have further cemented her status as a fashion icon. Carla Bruni's legacy as a talented musician, fashion icon, and philanthropist remains as strong as ever. Her ability to effortlessly navigate different artistic realms and her dedication to making a positive impact on society have earned her admiration and respect from fans worldwide.
Carla Bruni Biography
---