Neil Barret
Nato a Devon, Inghilterra, 1965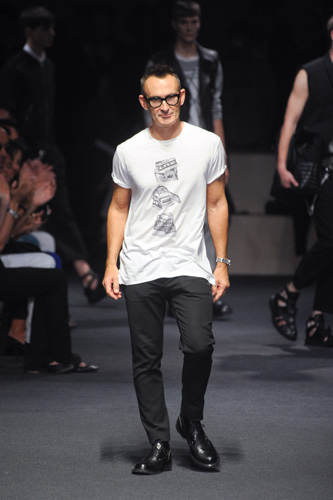 Con un nonno e un bisnonno entrambi maestri sarti, un precoce interesse nella moda e nella sartoria era determinante in Neil Barret. Dopo essersi laureato alla Central Saint Martin's School of Art and Design, Barrett è andato al Royal College of Art per studiare per il suo master.
I modelli di Barrett hanno catturato l'attenzione della casa di moda Gucci, che l'ha assunto per disegnare per la sua linea di abbigliamento maschile. I suoi modelli hanno portato successo commerciale e Barrett è stato promosso a stilista maschile senior.
Dopo un periodo di successo da Gucci, Barrett ha proposto il lancio della sua prima collezione maschile da Prada. Prada ha assunto Barrett come direttore creativo e , sotto la sua influenza, Prada è diventata rinomata per l'abbigliamento maschile minimal. Durante il 1994 e il 1995 le vendite da Prada sono duplicate.
Nel 1999, con l'esperienza e le abilità imparate da Prada e Gucci, Barrett ha lanciato il brand con il suo nome per uomini. Due anni dopo, è stato aperto il primo flagship store a Tokyo.
Nel 2002 Barrett ha iniziato a mostrare le sue collezioni alla settimana della moda di Milano. Lo stesso anno Barrett ha collaborato con Puma per una serie di scarpe d'atletica. L'anno dopo Puma ha nominato Barrett direttore creativo per alcune collezioni del marchio inclusa quella per la Nazionale di calcio italiano. La squadra di calcio non ha solo indossato i modelli sportivi di Barrett ma anche l'abbigliamento formale rendendo Barrett il primo stilista a vestire in esclusiva una nazionale di calcio.
Nel 2006, la collezione donna di Barrett ha fatto il suo debutto durante la settimana della moda di New York. L'anno dopo, Barrett ha iniziato a disegnare un concept store con l'architetto Zaha Hadid. Il negozio ruota intorno a una grande scultura ed è stato aperto nel 2008.
I modelli di Neil Barrett offrono una ribellione elegante. Con completi raffinati e a vita alta che aderiscono perfettamente, Barrett tende a non seguire le mode ma il suo gusto individuale e l'istinto.
---