M.I.A. and Astrid Andersen Announce Collaboration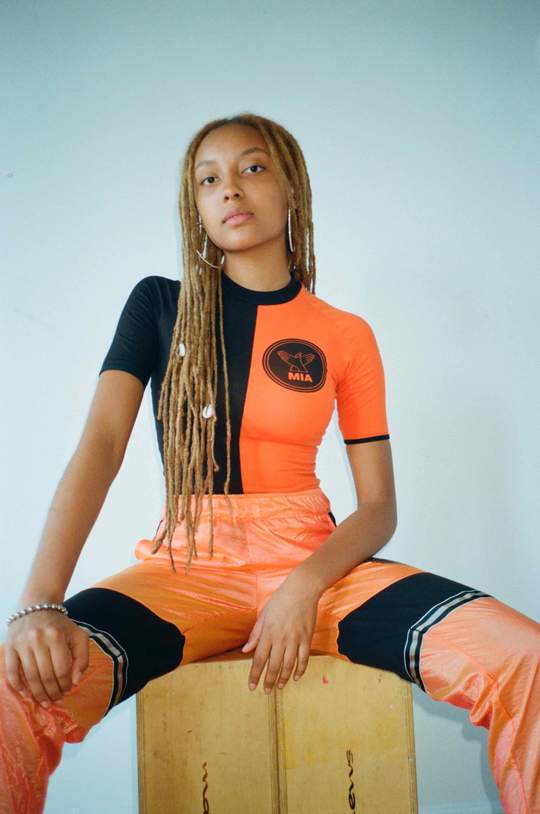 M.I.A. and Astrid Andersen Announce Collaboration
Amid a flurry of designer and celebrity collaborations, M.I.A. and Astrid Andersen revealed their own project earlier this week. The rapper released a new album last September, and is currently ramping up for a world tour, so now seems the perfect time to release a new collaboration, right?
The pieces reflect looks from Andersen's Spring 2017 collection, which was inspired by basketball and hip hop, drawing attention in bright orange and stark black. "I've been a fan of M.I.A. for a long time," Andersen told Vogue at Copenhagen Fashion Week. "She was the benchmark for cool women who would wear my new collection—so when she called me, I was mega-excited."
This black and orange collection is made up of t-shirts, track pants and anoraks. The black anorak is made entirely of recycled plastic by Parley for the Oceans, the same sustainability-focused brand currently working with Stella McCartney. M.I.A. has supported sustainability in fashion for several years, working with H&M only last year on their World Recycle Week Campaign. "If all [H&M] do is go and inspire another high-street brand to get in on caring and being conscious, or if H&M gets criticized for any of their factory processes, these are all good things," she stated in an interview at the time.
The overall feel of the collection is very relaxed and cool, a mix of bright and dark pieces that are both versatile and on trend for the moment. "I chose to work with Astrid because she is an independent who combines function, sport, simplicity, and futurism," M.I.A. said. "It all very much suits my personal style because it's utilitarian—you can wear it to a club because everything is light." Indeed, these pieces look perfect for clubbing, grabbing a coffee, taking a hike or mixing into an athleisurewear outfit.
Andersen's excitement to work with M.I.A. went beyond celebrity-induced enthusiasm – a genuine admiration for the rapper's vision and message cemented this relationship. "I admire how strong her entire universe is," Andersen explained to Vogue. "Her message is strong and pure and her personality is strong-willed and determined—determined to stay on her own path and include people in her vision without outside noise. That's rare to find and that's what made her so incredible to work with."
Ranging in price from $70 – $160 USD, the collection is available starting today on M.I.A.'s new ecommerce site ohmni.com.
M.I.A. and Astrid Andersen Announce Collaboration
---