Gabby Douglas for Nike x A.L.C.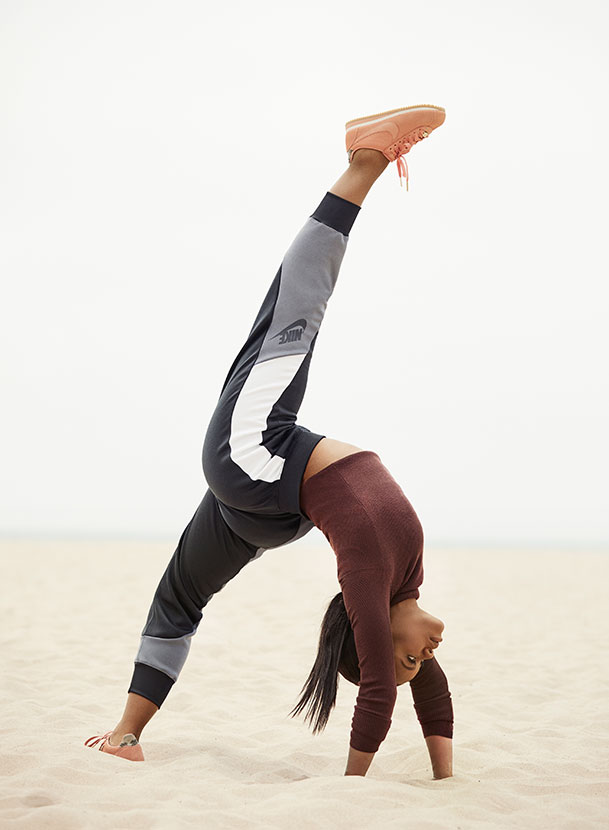 Gabby Douglas for Nike x A.L.C.
Bending and stepping into position, Olympic gold medalist Gabby Douglas is featured in the new campaign for the Cortez by A.L.C. collaboration with Nike. The 21 year old gymnast joins models Bhumika Arora and Cindy Bruna in modeling the three new sneakers, co-designed by A.L.C.'s Andrea Lieberman. The designer stated that Douglas embodies the values behind this collection, and that it was "an honor to feature her."
The collection focuses on the Cortez sneaker, made famous by the photo of Farrah Fawcett skateboarding in the shoes in 1976. While the feathered hair of the former Charlie's Angel has not maintained, the classic rounded toe and long, flat-soled profile has. Three motto's from the A.L.C. brand, "Love More," "Do It, Own It," and "Think How You Can," are emblazoned on the inside of the newly redesigned sneakers, which come in three fresh colors: Oil Grey, Light Orewood Brown, and Terra Blush.
Brass hardware, snakeskin and suede uppers are among the details Lieberman used in this new design. The shoes are shown in one photo styled three different ways – laced up to mid-calf, looking like ballet shoes in the Terra Blush; the long laces looped around the ankle numerous times; and tied at the tongue of the shoe as we are accustomed to seeing.
"From the Nike LA team to the Portland team to the ALC team, it was a room full of women running the show and we all wanted the Cortez by A.L.C. to speak to the needs of our lifestyle," Lieberman said when asked who the shoes were designed for. "Using the Cortez is more than just a stylistic choice—it represents a mindset. I believe that confidence, style, and comfort are not mutually exclusive. We are real women running our lives our way and that is what this collaboration represents."
Retailing at $100 a pair, the shoes will be available at Nordstrom the Grove on August 25, and starting August 28 the collection will be available at alcltd.com, Net-a-Porter, Nike.com, the Nike SNKRS app, and select Nordstrom stores.
Gabby Douglas for Nike x A.L.C.
---