The Death of Zsa Zsa Gabor: Everybody's Darling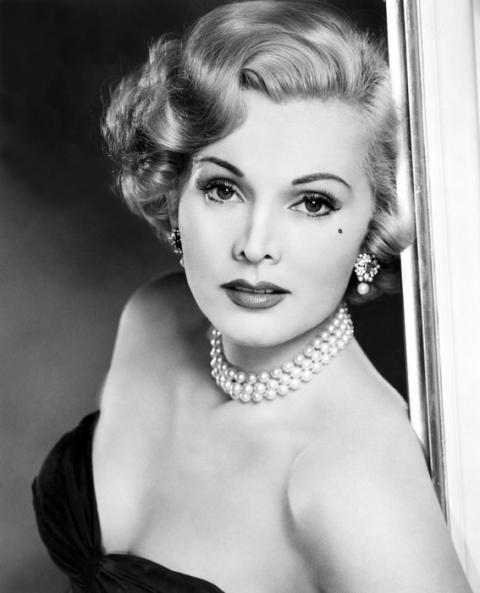 The Death of Zsa Zsa Gabor: Everybody's Darling
On December 18, the famed actress and socialite Zsa Zsa Gabor passed away at her home in Bel-Air. Known for her glamour, charm and wit, Consistently stunning, her coiffed blonde hair framed a bright face made up with perfectly lined lips and cat-lined eyes. Credited with saying, "don't be like the rest, darling," she took her own advice and ran with it through a vivacious life.
Already classified as glamourous, Gabor's personal style was exemplified by dazzling luxury. Silk scarves were tied at the neck in oversize bows; satin dresses and maribou trimmed robes defined her waist, while pearl necklaces and  diamonds galore adorned her decolletage.
Gabor's alluring style and looks were not her primary draw. Born Sári Gábor in Budapest in 1917, Zsa Zsa was the second of three sisters all trained in acting, dancing and music. This led her to the silver screen and American television, in roles that included Jane Avril in Moulin Rouge (1952), Rosalie in Lili (1953), and as the strip club owner in Orson Welles' crime drama Touch of Evil (1958). She soon became known for her exceptional personality, becoming a socialite and celebrity beyond the screen.
At a point, Gabor simply became famous for being famous, a precursor to so many of today's celebrities. Her numerous marriages became a topic of great interest, as did her take on her own life and the lightness with which she appeared to view her various divorces and unions. Between 1949 and 1986, Gabor was married 9 times – once only for a day, in a quickly annulled affair aboard a ship in 1983 – none of which lasted more than five years, until her final marriage to Frederic Prinz von Anhalt. She was known to have remarked that, "I have learned that not diamonds but divorce lawyers are a girl's best friend."
Divorces aside, the star's life was not thoroughly charmed. In 1989, Gabor was arrested and jailed for 72 hours after slapping a police officer who pulled her over in Beverly Hills for a traffic violation and later finding that her license was expired and she possessed an open bottle of vodka in her car. Beginning in 2002, Gabor suffered numerous health issues, ranging from multiple strokes and head injuries, to a hip replacement and later a partial leg amputation.
Beyond her enchanting personality and acting career, Gabor published multiple books in conjunction with ghost writers, notably among them her 1970 title, How to Catch a Man, How to Keep a Man, How to Get Rid of a Man, and One Lifetime is Not Enough (1991). She also ran a mail-order cosmetics company, at one point offering $1 million if someone could prove she had received a facelift.
From beginning to end, Gabor fulfilled the idea that style is an attitude – from her ravishing gowns and impeccably curled hair, to her graceful posing and irreverent outlook on her socialite lifestyle. "I don't remember anybody's name. How do you think the "dahling" thing got started?"
 The Death of Zsa Zsa Gabor: Everybody's Darling
---