Trussardi
Trussardi biography
Founded by Dante Trussardi in 1911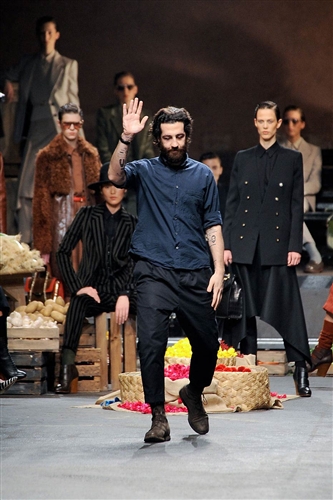 Dante Trussardi established his company as a factory that produced and distributed luxury gloves. Within just a few years manufacturing the high quality raw materials and constant evolution of leatherworking techniques, Trussardi became a prominent international firm for accessories. The company's excellence grew so much so that the business became an official purveyor to the British Royal Family.
In the late 60s Dante Trussardi's grandson took over the business. Nicola Trussardi started to expand the business, diversifying its product range and entering the clothing market.
Trussardi adopted the Greyhound logo in 1971 making it the first brand to use a logo to identify all of its products.
During the 70s Nicola Trussardi designed, produced and marketed luggage ranges and homewear as well as leather jackets. Trussardi opened their first boutique in Milan in 1976 and expanded into foreign markets.
During the 80s Trussardi moved into clothing releasing menswear and womenswear collections.
In the 90s Trussardi continued their international expansion. The company also increased their visual communication with campaigns shot by Mario Testino, Richard Avedon, Michel Comte and Steven Klein.
In 1996 Trussardi opened a flagship building in Italy containing a showroom, boutique, exhibition space, café, bookshop and restaurant.
In 2002 the fourth generation of the Trussardi family took over with Beatrice Trussardi as President and CEO. Under her guidance the business aimed to define itself as a lifestyle brand.
A sub-brand, Trussardi 1911, was launched under the direction of Beatrice Trussardi. Designed by Milan Vukmirovic, the brand offers accessories and contemporary clothing.
Tru Trussardi and TJ were also launched as  smart work wear and leisure wear lines.
The Trussardi brand is known for its Italian excellence. A true lifestyle brand, the company offers fashion, art, food and design. Discrete sophistication shows through the luxurious products Trussardi offers.
Trussardi biography
---