Marchesa
Fondato da Georgina Chapman e Keren Craig nel 2004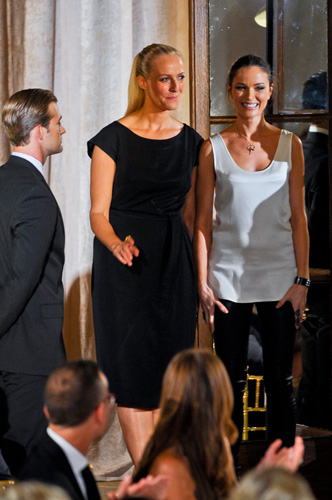 Il duo britannico si è incontrato al Chelsea College of Art and Design a Londra. Georgina Chapman ha frequentato la Wimbledon School of Art laureandosi nel 2001 e ha iniziato una carriera come costumista. Keren Craig ha frequentato il Brighton Art College laureandosi nel 2000 e iniziando a concentrarsi sulle stampe e i ricami.
Nel 2004 la coppia ha deciso di combinare la loro esperienza e aprire un marchio chiamato Marchesa dalla musa Marchesa Luisa Casati. Insieme hanno creato abiti da sera eleganti e meravigliosi ispirati dal vintage e da influenze asiatiche. Gli abiti hanno offerto alta moda unita a un diverso stile e a una diversa estetica.
Il business, con sede a New York, ha collezioni vendute internazionalmente in negozi di lusso. Neiman Marcus e Bergdorf Goodman hanno venduto Marchesa negli Harrods americani e britannici  e in boutique in Canada, Russia, Dubai e Hong Kong.
L'azienda ora ha una linea di borse, di abiti da matrimonio e ha collaborato con Lenox per disegnare una linea di argenteria. Chapman e Craig hanno anche lanciato una linea di cosmetici in collaborazione con Le Métier de Beauté.
Sono seguiti da una lunga schiera di celebrità che li hanno scelti per le loro apparizioni pubbliche.  Sarah Jessica Parker, Sandra Bullock, Anna Kendrick, Blake Lively, Camilla Belle, Diane Kruger, Heidi Klum, Lucy Liu eEmma Watson hanno tutte indossato Marchesa .
Georgina Chapman e Keren Craig sono conosciuti per i modelli di abiti da sera di lusso e meravigliosi che hanno un mix eclettico con l'aggiunta di abbellimenti. Un marchio solito sul red carpet, Marchesa offre alta moda femminile con un'etereità opulenta.
---