Impressions Dior
---
Posted on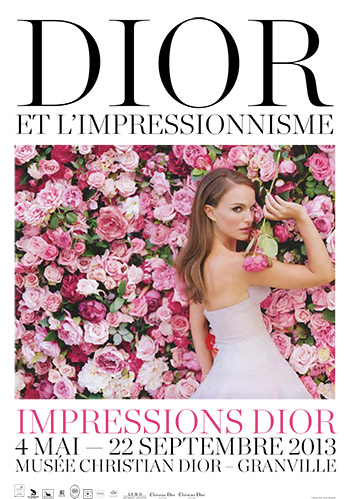 Impressions Dior, from the 4th of May to the 22nd of september 2013 in the Christian Dior Museum in Granville, north of France.
This exhibition is part of  «Normandie impressionnisme»  festival and it mostly aims at showing the connections between haute couture and the impressionism art.
Impressionism  is a way of painting developed in France in 1870's.
The Christian Dior museum in Granville is the only museum in France dedicated to the French couturier. The museum is based in Dior's old family house, located on a cliffs, facing the sea.
It's in this beautiful historical place that you will discover more than seventy Dior's dresses, accessories, and pictures, along with splendid watercolors and antic paintings generously lent by important parisian museums such as Musée d'Orsay.
Displayed here, are the Dior's creations from 1947 to 2012, all of them being related to the impressionism movement.
The exhibition is also about mutual inspirations from Dior and the painters, especially around the nature's theme : flower printed dresses, colors of the sea and the sky, elements being related to paintings from Claude Monet, Auguste Renoir or Berthe Morisot.
These artists favored brights colors and lighting effects. They were interested in landscapes as well as  picturing every moments of a normal life.
1. Rose france afternoon dress, in taffetas with coloured rose print, Spring-Summer 1956 Haute Couture collection, flèche line. © Laziz Hamani
2. Auguste Renoir, Roses Mousseuses, oil on canvas, circa 1890. Paris, musée d'Orsay. © Hervé Lewandowski / RMN-Grand Palais (musée d'Orsay)
Colors, prints and embroideries of Dior's dresses in the exhibition are all inspired by impressionism's paintings.
Nature is the main theme. The painting «Trois Femmes aux ombrelles»  (Three womens with sunshades) of Marie Bracquemond reminds us of a beautiful John Galliano's 2005 creation, see below.
1. Marie Braquemond (1841-1916) Three women with parasols, oil on canvas. Paris, musée d'Orsay. © Patrick Schmidt / RMN – Grand Palais (musée d'Orsay)
2. Margot dress in yellow tulle embroidered with multicolor wool en raffia, Automn-Hiver 2005 Haute-Couture collection. Christian Dior by John Galliano. © Laziz Hamani
This exhibition is also highlighting the true feminine beauty, starting from the splendid Dior's creations and following by the beautiful women in the paintings.
The exhibition is obviously focused on Dior but is also a real tribute to impressionism artists.
1. Cygne noire dress in black faille adorned with black ostrich feathers, Autumn-winter 1957 Haute-Couture collection, fuseau line. © Laziz Hamani
2. White organza dress embroidered with "Pointillists" degrade chiffon, Autumn-winter 2012 Haute Couture collection. Christian Dior by Raf Simons. © Laziz Hamani
 1. Smart afternoon dress in pale blue organdi, emboidered with pink an blue forget-me-not, Spring-summer 1953,Haute Couture collection, Tulipe line. © Laziz Hamani
2. Petit diner dress in black failleHaute Couture , Autumn-winter 1948 Haute Couture collection, ailée line. © Laziz Hamani
The visit of the museum ends in the garden with a perfume workshop called «Impressions de parfumeur» (perfumer's impressions).
This workshop proposes olfactory points. Every single one is an interpretation of a painting related to Dior's perfumes.
---