Street Fashion – Autumnal Attire
---
Posted on
Street Fashion – Autumnal Attire
Approaching Autumn in cosy fabrics, this stunning look is also styled in tones that are nude and natural.Wearing a soft polo neck jumper with a pair of matching tapered trousers, the outfit is accessorised with a floral themed clutch and street sensible stilettos. Finishing with a pair of tortoise shell sunglasses and softly styled hair, a stylish trench coat  is used to complete this latte-coloured look.
Autumn brings with it chilly winds and frequent rain showers so what better way to keep warm and dry than with a coat like this? Bright in it's colour and tied with a bow, a wider sense of fun is introduced to the outfit by it's accompanying fluffy bag and a pair of matching fur lined loafers.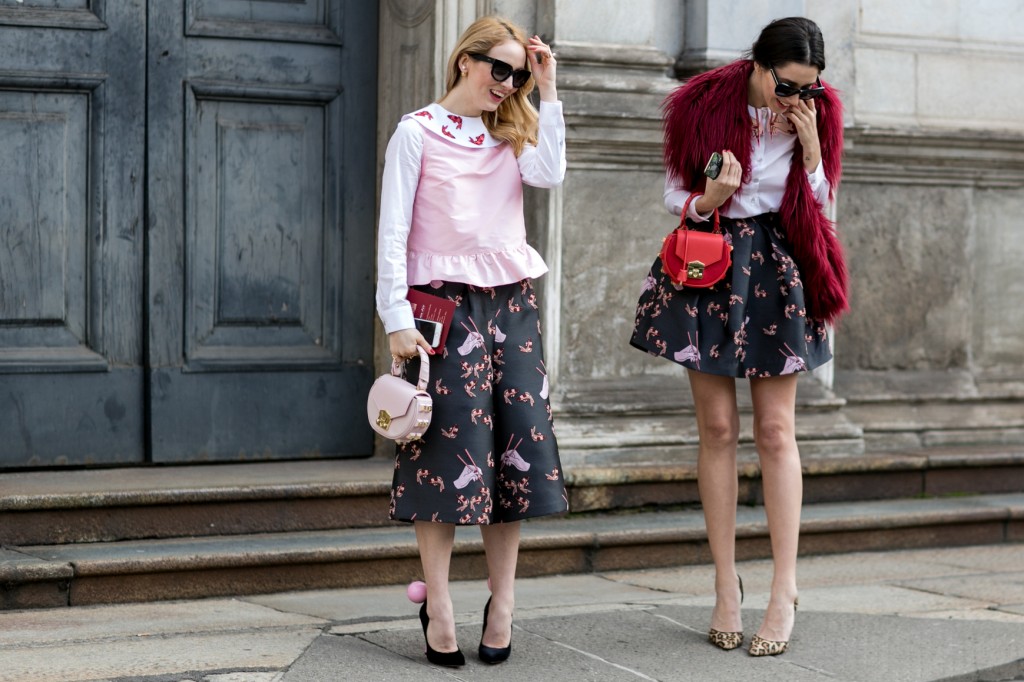 Coordinated yet maintaining contrast, these ladies demonstrate how to successfully sport the same brand in unique ways. With the bottoms crafted in the same oriental fabric, whilst the left takes on this year's rising culotte trend the right opts for a feminine skirt. Both worn with crisp white shirts, heels and matching miniature handbags, whilst the left lady completes her look with a peplum top her friend finishes off with a luxuriously berry coloured shaggy shawl.
With the majority of his garments crafted in shades of navy, black and dark blues, this guy redefines the meaning behind 'dark and handsome.' Fashioning a confetti print shirt with a pair of patterned suit trousers, the look remains smart through the wide brimmed fedora, Chelsea boots and fabricated bomber jacket.
Street Fashion – Autumnal Attire
---