Which Dress Shapes Work for Your Figure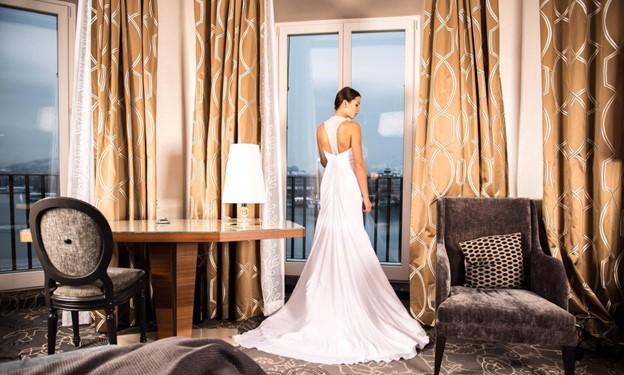 Picking the perfect wedding dress is no easy task. It can be tricky to decide which style will flatter your figure, especially when there's a sea of dresses in all shapes and sizes. But don't worry—we're here to help you narrow down your options based on the shape that works best for you. From A-lines to ball gowns to petticoats and more, we have all the information and advice you need to make sure you look stunning on your big day! Read our blog post below for tips about which dress styles most emphasize curves (or lack thereof), so you can feel confident in your search for the dream bridal ensemble.
Understand your body type and what looks best on it
Understanding your body type is the key to looking and feeling your best. It's important to realize that not all clothing styles and silhouettes are created equal. Your body shape will determine which items of clothing will flatter your figure and which will leave you feeling frumpy and defeated. If you have an hourglass figure, for example, you'll want to emphasize your curves with fitted clothing and avoid baggy pieces that hide your shape. Similarly, if you're pear-shaped, you'll want to focus on balancing out your proportions with tops that draw the eye upwards and bottoms that aren't too snug on your hips and thighs. By taking the time to assess your body type and experiment with different clothing styles, you can find a wardrobe that showcases your unique beauty and boosts your confidence.
A-line dresses work for many different body types
A-line dresses are a versatile wardrobe staple that can flatter many different body types. With a fitted bodice that flares out gradually, the A-line silhouette creates an hourglass shape that's universally flattering. Whether you have a pear, apple, or hourglass figure, an A-line dress can highlight your best features and mask any insecurities. The beauty of this dress style is that you can choose the length, neckline, and sleeve style to suit your personal preferences. You can dress it up for a formal occasion or keep it casual for brunch with friends. With so many options available, it's no wonder that A-line dresses are a popular choice among women of all shapes and sizes. Say "I do" in style with these Nashville wedding dresses.
Empire waistlines are great for petite frames
If you're someone with a petite frame, you might feel like finding the right clothing can be a bit of a challenge. Luckily, there's one style that is sure to flatter your figure: the empire waistline. This style, which cinches just below the bust and then flows out into a loose skirt, creates the illusion of longer legs and a more proportionate body. Not only that, but it's incredibly comfortable to wear, making it a perfect choice for any occasion. Whether you're dressing up for a wedding or just want to feel put together on a day-to-day basis, an empire waistline is a great option to consider. So why not try it out and see for yourself just how flattering this style can be?
Mermaid or trumpet style skirts accentuate curves
Mermaid and trumpet style skirts are the ultimate go-to for anyone looking to accentuate their curves. These types of skirts hug every curve of your body, highlighting your natural silhouette and creating a stunning, figure-flattering effect. They're perfect for any occasion too, whether it's a formal event, a night out with the girls or even a date with your significant other. So, if you're looking to add a little bit of sizzle to your wardrobe, make sure to include a mermaid or trumpet style skirt. You won't be disappointed with the stunning results.
Ballgown styles look great on taller figures
If you have a taller figure, ballgowns are a must-try for any formal occasion. The voluminous skirt and cinched waist will accentuate your height and create a statement look. There are endless options when it comes to ballgown styles- from classic tulle designs to modern satin numbers with pockets. The key is to find a silhouette that flatters your body shape and complements your personal style. Not only will you turn heads in a ballgown, but you'll also feel confident and elegant all night long. So why not take advantage of your height and try out this stunning style?
Consider the neckline of your dress
Choosing the perfect dress for any occasion can be challenging, but one detail that shouldn't be overlooked is the neckline. Whether you prefer a plunging V-neck or a classic scoop neck, the neckline can completely transform the look of your entire outfit. Not only does the neckline affect the style of the dress, but it can also highlight or downplay certain features like your collarbone or bust. So the next time you're searching for the perfect dress, be sure to pay attention to the neckline because it just might be the key to unlocking your perfect look.
In the end, selecting your perfect wedding dress can be a stressful process. However, with knowledge of what flattering silhouettes and necklines best suit your body shape, you can confidently choose your dream gown for the big day. From an empire waist to mermaid or trumpet skirts, A-line dresses to ballgown styles, don't forget to consider all that's available. With careful consideration and honest self-reflection, your wedding ensemble is guaranteed to make you feel gorgeous on the most special day of your life. So, take a deep breath and get shopping!
---