Top trend stainless steel jewelry 2023 makes a splash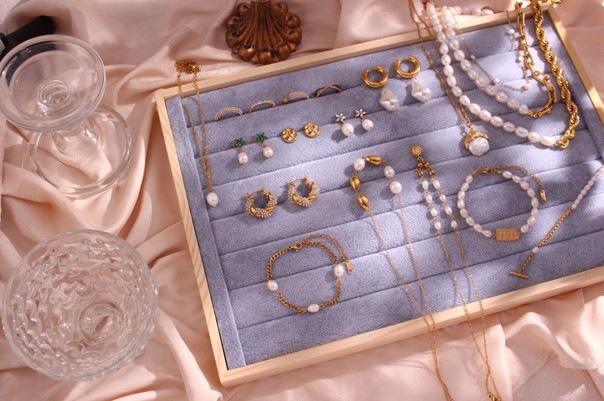 Introduction
Stainless steel jewelry will continue to be one of the trendiest trends in clothing and jewelry in 2023. Traditional precious metals like gold and silver can be replaced with stainless steel jewelry as a long-lasting and cost-effective option. Its outstanding versatility makes it a well-liked option for jewelry lovers in 2023. Due to its power, toughness, and beauty, this kind of jewelry has seen a significant increase in appeal in recent years. Stainless steel jewelry is available in various designs, from timeless and sophisticated pieces to cutting-edge, contemporary ones. As a result, it is a fantastic option for anyone wishing to stand out through their clothing choices.
Nihaojewelry is your best choice if you want the most popular silver jewelry, gold-plated jewelry, stainless steel jewelry, and other jewelry. There are around 500,000 styles available, with the majority costing between $1 and $2.
Top 10 stainless steel jewelry trends in 2023
1 – Oversized pearls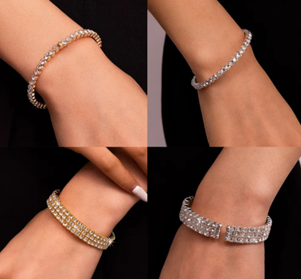 If you haven't already noticed, pearls are a part of this year's trend of BIG. Massive oversize pearls are popular right now. From 2022 forward, the market for pearl jewelry is expected to rise steadily. Therefore, be sure to purchase your oversized pearls or wear your remarkably lengthy pearl jewelry piece.
2 – Chokers made of ribbon
The choker necklaces that are popular this summer pay tribute to adornments that date even further back in antiquity, making them one of the few jewelry trends on our list that aren't the result of a certain Y2K comeback. The Victorian era is brought to mind by ribbon choker necklaces embellished with silk flowers, which were worn securely around the throat by women at the time.
3 – Customized Jewelry
As we enter the new year, personalized jewelry, one of the top jewelry trends of 2023, is more in style than ever. With the current trend for self-expression and maximalism, customized jewelry fits in perfectly.
4 – Statement earring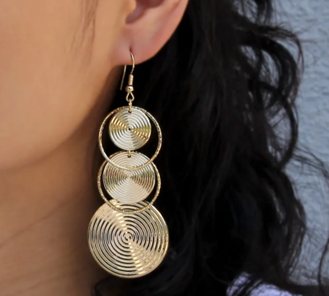 Although statement earrings have long been a staple of design, this year they are taking center stage. Large silhouettes and vibrant patterns are in style, giving women the chance to express their unique sense of style and uniqueness. Gold and gems are common choices since they give every outfit a sense of beauty and richness.
The fact that statement earrings go with everything, from casual to formal, is one of their best qualities. They can also be used to either contrast or complement a look, depending on the desired outcome. Consider your face shape and skin tone when selecting statement earrings because some forms and colors may be more attractive than others.
Statement earrings can be used as an introduction in addition to being a stylish accessory. Without having to speak, they enable women to express themselves and make a statement. From crystal earrings to edgy hoops, there is a statement earring for every fashion inclination and occasion.
Keep your statement earrings properly stored and handled to keep them in top condition. Avoid exposing them to water or harsh chemicals, and think about storing them in a soft pouch or jewelry box to minimize scratches or damage. If properly taken care of, your eye-catching earrings will keep adding flair and personality to your ensemble for years to come.
5 – Floral Jewelry
In 2023, floral jewelry will be quite popular because it is a classic style. The trend is toward flowery jewelry, whether you choose gold or silver. Any occasion and practically anything may be accessorized with floral jewelry. This year, floral jewelry will be seen everywhere as either a statement piece or an accompaniment to many different types of ensembles.
6 – Minimalist rings
Minimalism has long been a popular fashion and interior design trend, and it has now entered the world of fine jewelry. In recent years, minimalist rings have become more and more fashionable, and in 2023, this trend is anticipated to persist. Because of their simplicity and understated elegance, minimalist rings are attractive and a great option for those who like to accessorize softly.
You can layer minimalist rings for a more personalized and one-of-a-kind design, or you can wear them alone for a classic and beautiful look. You can add a unique touch to your ring by using the modification and personalization options that are available for simple designs.
When choosing a minimalist ring, consider the band's width, thickness, and polish as well as the number and caliber of any diamonds or other gemstones that may have been used. With so many options, you may find a minimalist ring that suits your preferences and style.
7 – Heart-shaped jewelry
Heart jewelry has always been well-liked, and this year it is becoming more popular once again. Heart-shaped jewelry is not only a cute way to express yourself and flaunt your romantic side, but it also makes wonderful presents for that particular someone. 2023's biggest trend will be heart-shaped jewelry.
8 – Stone Jewelry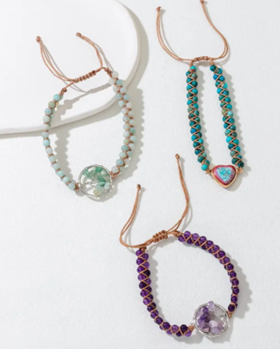 Although gemstones are timeless, this year, they are better and bigger than ever. Gemstone jewelry is a must-have fashion accessory for 2023, whether you decide to go wild with vivid and multicolored gemstones or understated with pastel tones. One of the biggest fashion trends for 2023 involves the use of gemstones in everything from earrings to rings to necklaces to pendants and more.
9 – Necklaces in candy colors
This trend looks good enough to eat and is the ideal representation of how jewelry this summer is bringing cheeky whimsy. Candy-colored chains and bracelets, whether worn alone or in stacks, lend a sense of carefree playfulness, but we also adore the way they play with a formal or high-fashion ensemble.
10 – Mismatched Beaded Jewelry
Mismatched beaded necklaces and bracelets accept imperfection with a clashing of sweetness, which is another carefree jewelry trend. For a vibrant, distinctive feel, pearls, crystal, and ceramic beads are blended in a variety of sizes, shapes, and colors.
Conclusion
In the fashion and jewelry industries, stainless steel has grown in favor in recent years. Stainless steel is a wonderful option for jewelry items incorporating many various types of metals since it can be produced in a variety of finishes or colors. Stainless steel bracelets can be combined with other materials, such as wood or precious metals like gold and silver, or they can be created to seem like chains on their own.
For merchants, boutiques, and brands, Nihaojewelry offers a huge selection of wholesale jewelry. and offer more well-liked products, faster shipping, and cheaper purchase prices to help shops in expanding online businesses.
---