Suunto Travers Alpha hunting and fishing watch review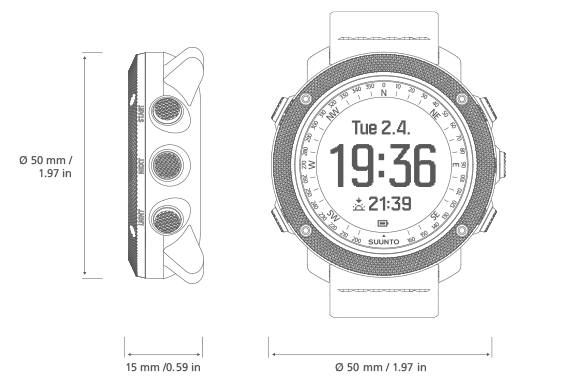 Hi everyone, my name is Anthony and I'm a reviewer of useful hiking and fishing equipment.
Today I'm reviewing a great watch for hiking, hunting, and fishing, the Suunto Travers Alpha. I already talked about this watch in one of my previous articles. But today I want to take a closer look at this watch from the user side since I've been using it for the second month now and I have a lot to tell you.
Here we go.
Suunto Travers Alpha Specifications
So, let's start with the dimensions and material of this device:
Dimensions: 50 x 50 x 15 mm
Weight: 75 g
Dimensions: 1.97 x 1.97 x 0.59
Bezel Material: Stainless steel
Glass material: Sapphire crystal
Case Material: Composite
Material Strap: Fabric
This watch may look heavy, but when you put it on, you understand that it is only heavy visually. The watch fits comfortably on your wrist and is comfortable to use.  Among other things, the built-in features (Hiking, Hunting and Fishing modes; red backlighting not blinding night vision devices, and more) increase the convenience of using this device. I would say the Suunto line has the perfect watches for hunting.
Accessories: watch, USB-cable, quick guide, flyer with warranty conditions
Key features of the watch
– Hiking, hunting, and fishing modes
– Sunrise and sunset times, alarms for these events
– Special types of points of interest for hunting and fishing
– Moon phases, moonrise, and moonset times
– Auto shot detection
– Red backlighting to keep night vision devices glare-free
– GPS and GLONASS route guidance and POI points
– Real-time viewing of the saved return route
– Tracking speed, distance, and altitude
– Search for new routes with heat maps on the Suunto Movescount website and in the Suunto Movescount App
– Route planning in Suunto Movescount.com with topographic maps
– Previewing the route and displaying the altitude profile on the watch along the route
– Waterproof to a depth of 100 meters (330 feet)
– Altimeter with FusedAlti™ technology
– Weather and storm warnings
– Compass
– Backlight with flashlight mode
– Vibration alarm
– GPS time
– Activity tracking – steps and calories for the day, week, month, and year
– Mobile notifications
– Suunto Movescount App support (iOS and Android)
A little about Suunto Movescount App
As of today, Suunto Movescount App has a rather small, but strictly necessary range of functions, which makes the app look rather laconic. There are not as many features as in Garmin Connect Mobile, but at the same time, there is no feeling of overload and excess of little or completely unnecessary functions. At the time of writing the review, Suunto Movescount App for Android has the following main menu items:
I'm a sort of Summary counterpart from the Suunto Movescount web version, displaying recorded Moves over the past month, as well as graphs, are broken down by major activity types. A quick look at your progress.
Map – a heat map of the world based on the Moves that users have made publicly available.
Allows you to see where your Suunto devices are most actively used, and with a high degree of proximity, helps you find new routes and places to exercise nearby.
New Move is an easy and fast way to record Moves in one of the selected sports modes using your smartphone and its sensors. It requires the activation of geodata transfer to work.
Clock – menu item responsible for synchronizing your Suunto watch data with Suunto Movescount, managing sport modes, and setting up your Suunto device itself. Suunto users install the app primarily for this functionality, while others install it as a nice add-on.
Heart Rate – allows you to directly pair your smartphone with the Suunto Smart Sensor without using your Suunto watch. Allows you to view your current heart rate and receive heart rate data while recording Move from your smartphone. Unfortunately, I do not have a Bluetooth heart rate monitor, so I can't tell you more about how it works.
Experience of using it
I have been using the Suunto for a month and I would like to say that the watch has fully justified its price and also proved its effectiveness and usefulness while fishing, hunting, and navigating in the area.
Battery
The battery according to the manufacturer claims to last 14 days in standard mode and 100 hours in training mode with the included GPS. In practice, I can say that the watch is capable of lasting 12-14 days in standard user mode. But this kind of watch is not bought to be used as a normal watch. Therefore, I will take into account the actual operating time with the included functions necessary for man on hunting or fishing. The final running time of the watch with hunting mode enabled, auto shot detection, and GPS was 20-25 hours. This is a good enough performance because the analogs of this watch show the result of 10-12 hours. With absolutely all possible functions turned on, the time to complete battery discharge was 10-12 hours.
Unfortunately, I didn't have time to try out all the features of this watch, so I would say this is the first part of my review of this watch. If you like it, I will pick it up again and now test all the watch features offered by the manufacturer.
Backlighting
I would also like to mention the backlighting of this watch. At first glance, the red backlight is not much different from the standard white backlight. But now I will give you some examples where the backlighting of the screenplays a big role.
So, you decided to hunt, but due to a mistake in navigation, your ordeal dragged on until the first twilight. While you were looking for lost landmarks in an attempt to find your way back, it was already quite dark. It takes an average of 15 to 45 minutes for your vision to adjust to night light. After this time, the light from the moon and stars is usually enough to distinguish the outlines of objects and slowly navigate in the dark. This is where you have the need to see the time, start navigating to a point or check the compass on your watch. You turn on the bright white backlight, finish working with the watch, take your eyes away from the screen and realize that you see absolutely nothing. This is because the bright light of the screen (as well as any other high-intensity source) has completely obscured your "night vision.
Another example from hunting. You are sitting in an ambush, waiting for a beast to approach, whose vision, like yours, has already adapted to the darkness. Suddenly you receive a message from your comrades, who are engaged in the troop or decided to leave the hunt and return to the hunting cabin on the screen. You prudently turn off the sound and feel the vibration of the phone, but you will not know the essence of the message until you read it. If you turn on the phone screen – you will kill the night vision as in the previous example, plus you can give away your position by frightening the beast with the bright glow of your screen. Activating the red backlight and reading a message from the Suunto Traverse Alpha Stealth screen is much more appropriate in this case.
Whatever you're feeding the fish, it's also likely to move away from your floats or nets if you turn on a flashlight or white backlight on the watch screen next to them. She sees in the water better than you do, and what to you seems like a small light bulb, to her sees a huge spotlight. It would be a shame if you were sitting in a boat in the middle of a reservoir for hours, isn't it?
And it's good if only your prey depends on such activation of a bright light source, not your life or the life of your comrades-in-arms when you are doing reconnaissance work in the enemy's territory or alternating on the point located in the line of sight of the enemy artillery gunners, who also probably have a night vision device.
The red light of low intensity does not clog your night vision, does not give away your location, and is worse perceived at a distance by both human and animal eyes. Accordingly, there is nothing surprising about the fact that in watches oriented for the needs of fishermen, hunters, and military, the backlighting is done in red color, too.
Summary
I have not talked about all the features of the Suunto Traverse Alpha, but I tried to remember the ones that make it stand out from other watches with a similar orientation and have changed significantly compared to the Suunto Ambit Black HR and Suunto Ambit2 Black HR that I have had experience with before. As I said above, the Suunto Traverse Alpha is the next stage of technological development, a device for real navigation and use in harsh field conditions. So, it may not have some of the features inherent in more expensive or modern devices like the Suunto Spartan Sport Wrist HR, but what Suunto Traverse Alpha has really worked, will survive and get you out of the troubles that can wait for you away from home or the trails you've been on. For me, this watch was one return to the optimal functionality that prompted me to buy my first Suunto Traverse Alpha but discarding the unclaimed functionality of the Suunto Ambit2 Black HR multi-sport orientation. As a result, I now have a reliable and concise device that fits my needs perfectly.
---