Starting a Fashion Brand? Here's How to Choose the Perfect Clothing Manufacturer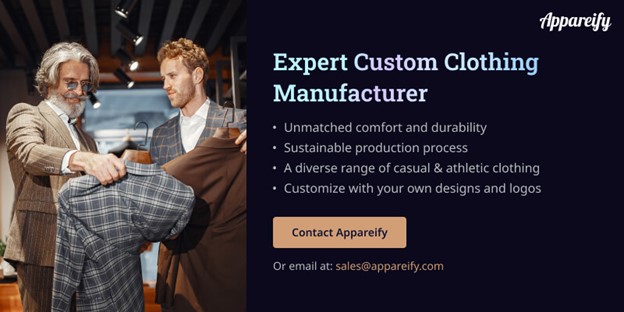 Choosing the perfect clothing manufacturer is a pivotal decision when starting a fashion brand. Your partnership with the right manufacturer often determines the trajectory of your brand, as they will bring your vision to life in ways that resonate with your target audience.
From analyzing the manufacturer's reputation and expertise to assessing their production capabilities and compliance with ethical standards, our comprehensive guide will provide invaluable insights into selecting the ideal clothing manufacturer for your business.
Determining Your Brand's Requirements
A. Product Type
The first step in starting your fashion brand is to identify precisely what type of clothing you want to produce. The spectrum ranges from casual wear, formal wear to athletic wear. The complexity of your designs and the specifications of materials required should align with your brand's ethos and the manufacturer's capabilities.
B. Manufacturing Budget
Running a fashion brand requires astute financial planning. You'll need to decide how much you're willing to invest in the production process. It's essential to strike a balance between quality and cost to ensure your brand remains affordable without compromising on quality.
C. Manufacturing Quantity
Decide on the volume of clothing you intend to produce. Consideration of the manufacturer's minimum order quantities (MOQ) can help in deciding the appropriate production volume that syncs with your budget and market demand.
Researching Potential Clothing Manufacturers
A. Locating Manufacturers
The quest for the perfect clothing manufacturer for startups like Appareify can begin with an online search of databases and directories dedicated to clothing manufacturers. Additionally, attending trade shows and fashion industry events can present opportunities to network and locate potential manufacturing partners.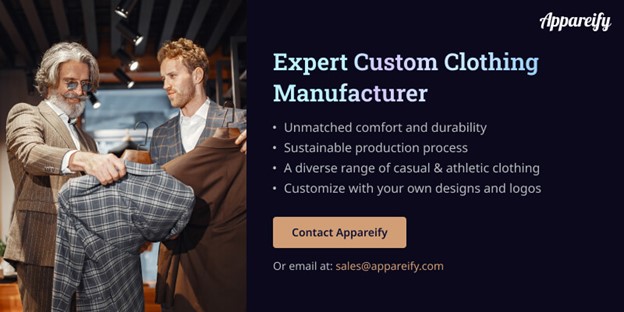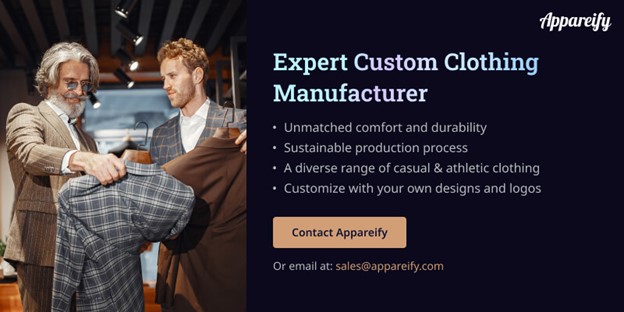 B. Evaluating Manufacturer Capabilities
Assessment of a manufacturer's capabilities is fundamental in the selection process. Evaluate their experience in producing clothing similar to your brand's product line, and check if they hold pertinent certifications and practice comprehensive quality control measures.
C. Requesting Samples and Portfolios
Before settling on a manufacturer, request samples of their previous work and review their portfolio to assess the quality and style compatibility with your brand.
Analyzing Manufacturer's Production Capacity and Lead Time
A. Production Capacity
While considering manufacturers, it's necessary to determine their capability to meet your production volumes. Their machinery, workforce, and overall production capabilities should match your brand's manufacturing requirements.
B. Lead Time
Inquire about the manufacturer's lead time for production and delivery. This information is crucial as it helps you align manufacturing timelines with your brand's business goals.
Pricing and Negotiations
A. Pricing Structure
Understanding the manufacturer's pricing structure, whether per piece or bulk orders, is essential. Leverage this information during pricing negotiations and to obtain discounts that align with your budget and production volume.
B. Payment Terms and Conditions
Engage in clear dialogues about payment terms, including deposit requirements and payment methods. The discussion should also cover refund policies and any hidden costs involved.
Quality Control and Assurance
A. Quality Standards
A key factor in choosing a top-tier clothing manufacturer such as Appareify is understanding their quality control processes. Seek information about their quality assurance measures, inspection procedures, and how they handle anomalies.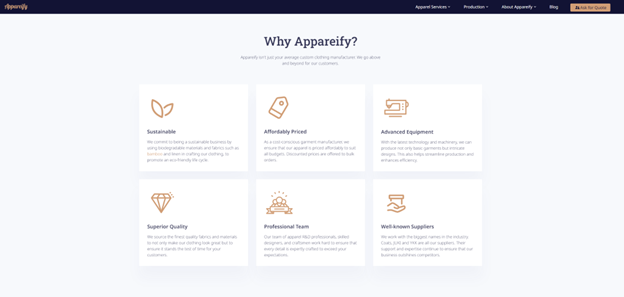 B. Communication and Collaboration
A healthy relationship with your manufacturer is crucial for your brand's success. Ensuring open lines of communication, regular updates on production progress, and the possibility of site visits can foster a collaborative environment.
Logistics and Shipping
A. Shipping Options
Exploration of shipping options from air freight, sea freight, to courier services helps in determining the most efficient way to get your products to market. The manufacturer's expertise in shipping to your target locations can also influence this decision.
B. Customs and Import Duties
Understanding the customs duties and import regulations involved in importing clothing is crucial. Consulting with experts can help you navigate these complexities and avoid untoward surprises.
Building a Long-Term Relationship
A. Openness to Collaboration and Adaptability
Seek a manufacturing partner willing to collaborate and adapt to your evolving needs. Consider their capability to accommodate your brand's growth and future line expansions.
B. Contract and Legal Considerations
It's essential to discuss the contractual aspects and legal obligations in detail. Legal advice can help ensure that you get favorable terms and provide adequate protection for your brand's interests.
Conclusion
In summary, the process of choosing the perfect clothing manufacturer such as Appareify for your fashion brand is a meticulous one, involving intentional research and careful evaluation. This decision holds tremendous importance, influencing your brand's quality, pricing, and potential for growth. Use the guide above to undertake this quest with confidence, helping to chart a thriving path for your fashion brand.
---