Quentin Jones and Smythson creating capsule collection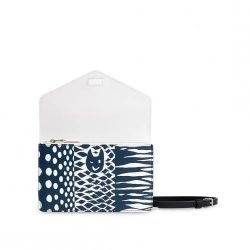 The collaboration first started in September last year with "The Panama Legacy," a series of collage portraits of figures including Bryan Ferry, Erdem, and Sigmund Freud commissioned by the brand and designed to celebrate their relationship with their Smythson of Bond Street Panama diaries. 
Now the project is to continue, with a new capsule collection of leather goods featuring Jones's illustrations set to launch at Colette in Paris on Monday, March 10. There are also Smythson x Quentin Jones notebooks available to pre-order online for €195. After the Colette launch the collection will arrive in Smythson's New Bond Street location on March 17 and hit its online store on March 31. 
As well as her collage work, Jones has also produced fun fashion films for clients including Vogue and Victoria Beckham. Smythson has also recently collaborated with London-based designer Jonathan Saunders on colorful new versions of the brand's Eliot folios and Grosvenor document cases. 
---