Must Try New Year Party Dress For Women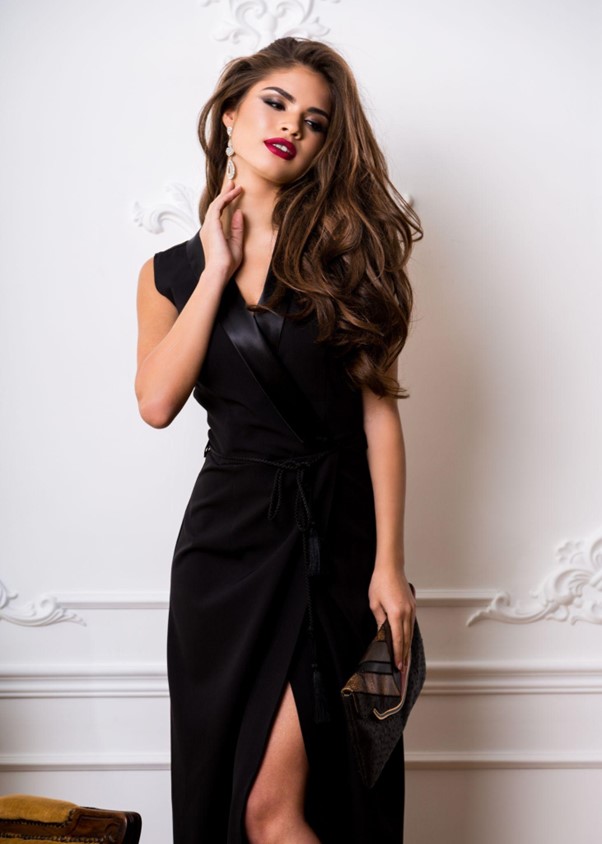 As the New Year approaches, it's time to start planning your party outfit. Whether you're going out with friends or attending a formal event, choosing the perfect dress is essential for ringing in the new year in style. From elegant prom dresses to sparkling sequin numbers and daring backless dresses, there are plenty of options to choose from that will make you feel confident and fabulous all night long.
In this blog post, we'll showcase some must-try New Year party dress ideas for women and provide tips on how to accessorize them for an unforgettable night. Let's get started!
New Year's Eve Dresses
New Year's Eve is the perfect occasion to dress up and celebrate with friends and family. When it comes to choosing a New Year's Eve dress, you have plenty of options to suit your personal style.
One popular choice is the classic little black dress, which can be dressed up or down depending on the event. A fitted bodycon dress in black can be paired with statement jewelry and heels for a chic look that's both comfortable and stylish.
For those looking to make a bold fashion statement, try opting for an eye-catching sequin dress in gold or silver. This glamorous option will ensure all eyes are on you as you ring in the new year.
If you're attending a more formal event, consider wearing a long evening gown in a jewel tone such as emerald green or sapphire blue. These elegant dresses exude sophistication and class while still being festive enough for New Year's Eve celebrations.
Cocktail Dresses
When it comes to a New Year's Eve party, the dress code is usually semi-formal or formal. A cocktail dress is one of the most popular options for such events. These dresses are elegant, chic and versatile.
Cocktail dresses come in various styles, designs and colors. You can opt for a classic little black dress or go bold with bright hues like red or emerald green. Some cocktail dresses feature intricate details like lace, sequins or beading that add extra allure.
A fitted silhouette is a common characteristic of cocktail dresses. Bodycon dresses are perfect for showcasing your curves while still looking classy and sophisticated. Alternatively, you can choose an A-line style that flares out from the waist down which creates a playful and feminine look.
Sequin Dresses
When it comes to New Year's Eve parties, sequin dresses are always a go-to choice for many women. These eye-catching and sparkling dresses are perfect for ringing in the new year with style and glamour.
Sequin dresses come in a variety of styles, from mini dresses to maxi gowns. They can also be found in different colors such as gold, silver, rose gold, or even multi-colored. The key is to find the one that fits your body type and personal preference.
For those who want something more subtle yet still festive, you can opt for a dress with minimal sequins or ones that have embellishments only on certain parts of the dress like the sleeves or neckline.
On the other hand, if you're feeling bold and daring, there are plenty of options available ranging from all-over sequined dresses to high-shine metallic pieces that will definitely make heads turn.
What To Wear To A New Year's Eve Party
New Year's Eve is the perfect excuse to dress up and celebrate in style. When it comes to choosing what to wear, there are plenty of options available depending on your personal style and the type of party you're attending.
– Cocktail dresses are always a popular choice for New Year's Eve parties. They're sophisticated yet fun and come in a variety of styles such as strapless, halterneck, or off-the-shoulder. Opt for bold colors like red or emerald green for a pop of color or stick with classic black for an elegant look.
– Sequin dresses are also a great option if you want to make a statement. These eye-catching dresses can be found in various lengths from mini to maxi and add some sparkle to any party outfit.
– If you prefer something more comfortable, jumpsuits have become increasingly popular over recent years due to their versatility. You can find them in different fabrics, cuts, and shapes that flatter every body type.
– For those who want something unique, backless or bodycon dresses offer an alluring take on traditional party attire that will surely turn heads at any gathering.
Whatever your preferred style might be remember that comfort is key when picking out your outfit – dancing the night away should never be hindered by uncomfortable clothing!
How To Accessorize Your New Year's Eve Outfit
Accessorise: Accessories can make or break an outfit, especially when it comes to New Year's Eve parties. When choosing accessories for your party outfit, think about the vibe you want to give off. A sparkly clutch and bold earrings can add some glamour to a simple backless dress.
Shoes: Shoes are another crucial accessory- they can change the entire look of your outfit! Strappy heels complement bodycon dresses while pointed-toe pumps work well with cocktail dresses. Don't forget about comfort as well; nobody wants sore feet on New Year's Eve!
Coat Or Jacket: A coat or jacket is also part of your overall ensemble so choose one that complements your dress style and color scheme perfectly. Fur coats always give you the luxe touch but if that's not in your budget, try a leather jacket or moto coat.
Don't underestimate the power of hair and makeup! Bold lips add drama while soft curls frame the face beautifully– experiment until you find what works best. With these tips in mind, accessorizing becomes easy-peasy!
Conclusion
As the new year approaches, it's time to start thinking about what you'll be wearing to ring in 2023. Whether you prefer a dazzling sequin dress or a sleek bodycon number, there are endless options available for every style and budget.
Remember that the most important thing when choosing your New Year's Eve outfit is to feel confident and comfortable. Don't be afraid to step out of your comfort zone and try something new – after all, it's a brand new year!
With these must-try New Year party dresses for women in mind, there's no doubt you'll find the perfect one that fits perfectly with your personal style! So go ahead and get ready to celebrate the end of this fantastic year with fashion flair!
---