MFW: fringes and tassels at Etro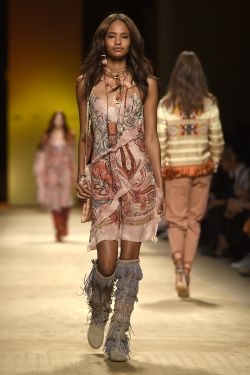 Silks and prints come as no surprise at Etro, but this season the brand really went to town, channeling a 1970s bohemian spirit, a theme that ran all the way through this collection.
The hippie-meets-Navaho pieces were layered up and accompanied with fringed and tasseled leather goods, and the footwear options began with high-heeled strappy sandals (beaded on the back), but also included plenty of flat choices, and knee high moccasin boots.
If at times the indigenous pick-and-mix flirted with cultural appropriation (thankfully there were no headdresses, and the feathers mostly stayed on the beaded belts and necklaces), the overall ambiance was definitively warm and the aesthetic open-doored. The woven scarves, ponchos and wraps appeared alongside the odd denim jacket, delicate laser-cut leather pieces and rag-woven tops.
There were some more obviously wearable pieces, including the 3/4 length pants with a tone-on-tone stitched motif, but on the whole this was a collection about leisure and fantasy rather than hard realities. Unsurprisingly, hair was worn loose, glossy, and center-parted, with an unfussy hippieish twist and curl.
---