Gucci launches Spotify hub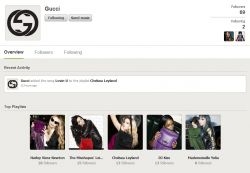 The move is part of the wider launch of the Gucci "nouveau fringe shoulder bag," which was inspired by an archival flap shoulder bag from the late 1940s and retails for $1,950.
There's also a YouTube video starring Estonian model Elisabeth Erm that shows the model toting the new bag, followed by security cameras in a glamorous nightclub. Soundtracked by French electro artist Gesaffelstein's "Pursuit," the clip comes with a fun twist when she finds herself facing her Peeping Tom. 
In 2012 Emporio Armani became the first fashion label to create a branded playlist for the music streaming service with a selection of tracks by artists including The Drums, Cat Power, Hot Chip and Bloc Party. Since then, fashion names like Pierre Balmain, Christian Louboutin and Bergdorf Goodman have all gotten involved. 
Gucci on Spotify: play.spotify.com/user/gucci (requires sign-in)
"The Fringe" video: youtube.com/watch?v=FHbEH5Ok-nw
---