Former model stands up for rights in fashion industry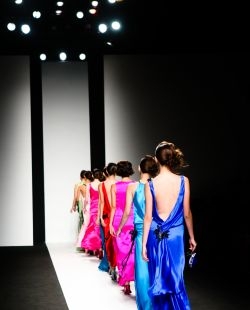 STUFF — Stand Up For Fashion — is the brainchild of Yomi Abiola, a Nigerian activist, model and contributor to Vogue Italia who has worked on ethical issues with the UN cultural organization UNESCO.
It was launched at an event in New York on Wednesday.
"The only time that people from fashion come together is at fashion shows or fashion parties, but in terms of having a real dialog about the business of fashion … it is not something that has been done at all," Abiola said.
Talks are to begin in Spring 2013 in New York following an initial series of meetings between representatives of various fashion industry sectors.
STUFF will also open discussion on what constitutes "true beauty," in an era when fashion magazines are full of airbrushed pictures of teenage models.
"Every industry comes together" to talk about pressing issues, "but the fashion industry never stands for anything beyond fashion," said Shauna Mei, founder and CEO AHAlife, a high-end gift website that supports the initiative.
"What Yomi is starting is something that collects the entire eco system, not just the modeling industry," Mei said.
Sara Ziff, founder of the Model Alliance — a network aimed at improving the working conditions of models — also supports Abiola's initiative.
"It's exciting that she's creating a forum in which people are interested in improving the industry, whether in terms of more environmental friendly practices or improving labor standards," Ziff said.
---