Marie Antoinette (2006)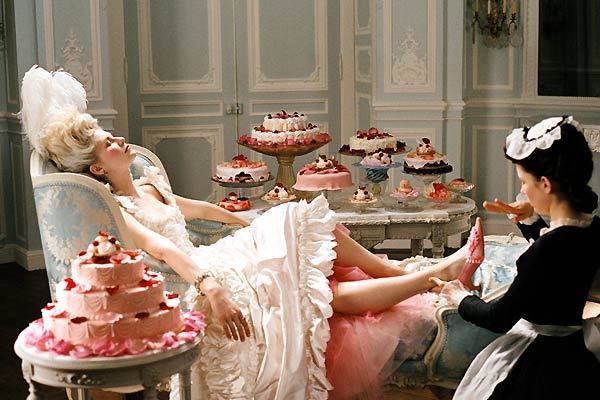 Sophia Coppola's Marie Antoinette is every bit as sartorial and visually pleasing as a fashion shoot.
The film is based on the life of the eighteenth century queen, who after being forced to leave her home country of Austria and marry the Dauphin of France, seeks solace in her new life from surrounding herself with pretty things and gambling with her friends. The Queen controversially continued her lavish spending into the French revolution despite the poverty enveloping the country. The film was styled rather like an eighties punk rock music video, its bright colours and clashing textures and patterns were fun and flirty.
Kirsten Dunst's Marie Antoinette seemingly turned eighteenth century France into a girlish dream, glamorous gowns, little ribbons around her neck, tiny hats and fingerless gloves, bright satin shoes and feathers. The colours were pale blues, bright pinks, and crisp beige. Her teased hair falling in pale ringlets, tinted lips and rouged cheeks and her obsession with French pastries saw colourful macaroons and a delectable, visual feast at every opportunity.
The film earned an academy award for best costume by renowned designer Milena Canonero and even inspired a Vogue cover and feature on Kirsten Dunst.
The production needed 6 assistant designers, ten rental houses, and the wardrobe unit had seven transport drivers. Shoes were made by Manolo Blahnik and Pompei, and hundreds of wigs and hair pieces were made by Rocchetti & Rocchetti. It was a fashion celebration, typical of Sofia Coppola's attention to aesthetics.
---