Surrealism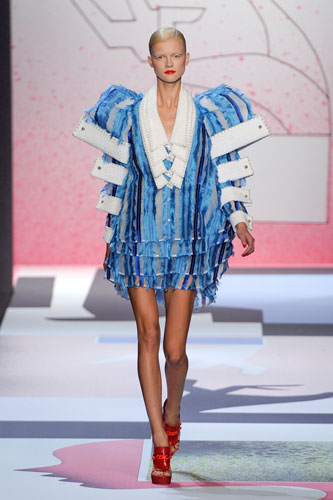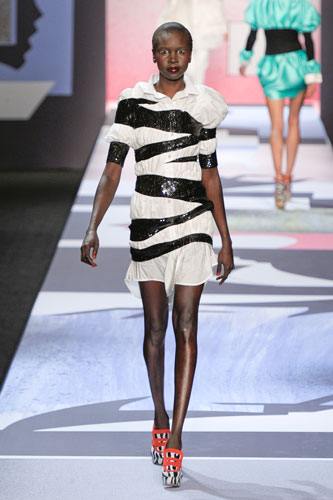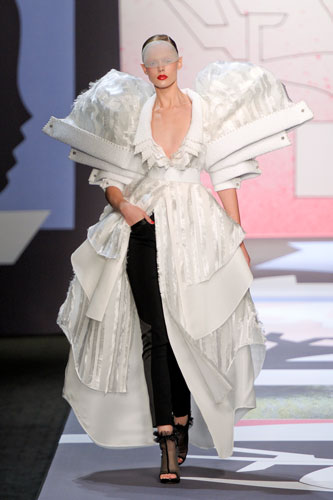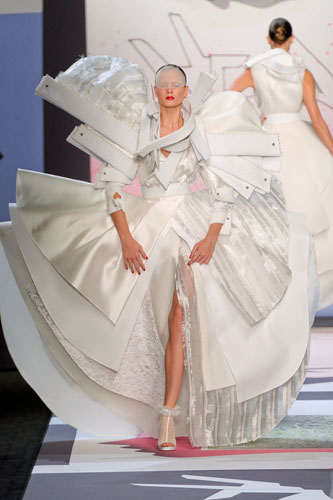 Viktor & Rolf – SS11
Surrealism has been called a revolution in itself by its leader André Breton. The element of surprise and wonder is essential within Surrealism, with Surrealist art works portraying psychological truths by displaying ordinary objects in an unnatural way to evoke empathy from the audience. Sigmund Freud's theories of dream analysis and the subconscious was essential to the Surrealists, as they concentrated on the wonders of psychology and imagination. This social movement developed from the Dada period and was formally named Surrealism by Guillaume Apollinaire in his performance Les Mamelles de Tirésias in 1917. The artistic side of the movement gained force worldwide in the1920s and the Golden Age of Surrealism in the 1930s included artists such as Salvador Dali and Max Ernst.
One of the key figures of the Surrealist art movement was Elsa Schiaparelli, artist and designer. She combined Surrealism and fashion to become an unstoppable force of creativity in the 1930s. Schiaparelli's hats were individual works of art and were always made from an extraordinary approach. She worked alongside Salvador Dali, Christian Bérard and Jean Cocoteau to develop her eye catching designs, including her shoe hat and a wicker basket filled with cellophane flowers, describing her design as 'only for life's lighter moments – for lunch, afternoon, or dinner when your spirits are extremely high.' Salvador Dali would also reappear in the design of her famous Skeleton Dress in her Circus Collection of 1938, a black silk crepe dress using trapunto quilting to create the padded ribs, spine and leg bones.
It has been argued that Elsa's fascination with Surrealism was influenced by her uncle Giovanni Schiaparelli, the astronomer who discovered the canals on the planet of Mars. His influence is directly seen in her Zodiac collection of 1938 which included her trademark design of the Big-Dipper, the nickname her uncle gave to her after noticing her facial beauty marks made up the constellation.
Her designs pushed the boundaries of the ordinary and consequently over shadowed the work of other designers at that time. Her most famous pieces include the Elsa Schiaparelli Patchwork Evening Jacket, which was influenced by the geometric artworks of Picasso.
Her fragrance Shocking also has become an iconic image of the Surrealist movement. The Surrealist artist Leonor Fini designed the bottle of the female torso to reflect the womanly curves of actress Mae West who had worn Elsa's designs before, this design broke all boundaries of design and formed Elsa as an icon. To this day designers are still influence by her creative edge in the fashion world. When her fashion house closed in 1954 Elsa still travelled and was included in the industry, and the Parisian haute couture artist is still one of the most remarkably Shocking fashion designers in history.
Nowadays the masters constantly experimenting with Surrealism are Viktor & Rolf as in theirs Spring-Summer 2011 collection above.
Can you help us improve this page? Send us your contribution on dictionary@catwalkyourself.com, we will update this page and give you proper attribution!
---