Pump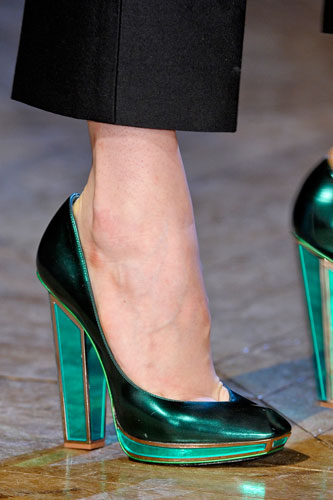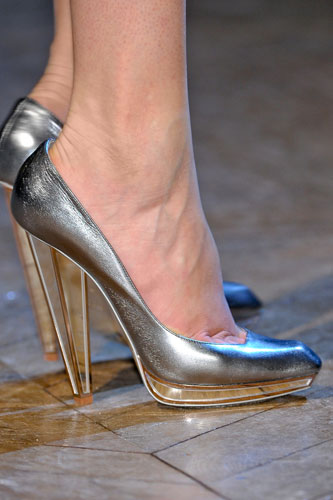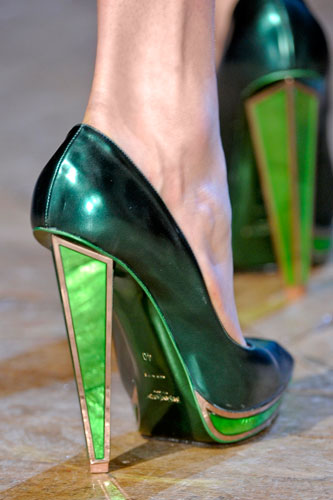 Pumps are a very common type of shoes that are typically close-toed, often have a heel and can be made from a variety of materials. The shoes uppers on the sides of a pump, extend around the back of the foot to cover the sides and heel of the foot. Though pumps are most often worn by women in modern times, this was not always the case. The earliest pumps was made in the 15th century for men and were called Pompes. Pompes were often flat shoes, however later, some men incorporated a wide higher heel into the shoe. Soon women also began to wear varying pump styles.
The modern version of this shoe dates to the early 20th century. Early women's pumps were often worn by servants who did not have money to spend on buckles or laces. Buckled and laced shoes were considered dressier for women for a number of centuries. Pumps can be either heeled or flat. Flat pumps are very similar to dolly shoes and ballet flats. Heel height varies considerably and often depends upon the current style, as does the shape of the uppers covering the toe. In the 20th century fashion has introduced pointy toed, rounded toe, and peep-toe shoes. In the fall winter 2012/13 Paris collection, Yves Saint Laurent showcases very high and gorgeous coloured green pumps.
Can you help us improve this page? Send us your contribution on dictionary@catwalkyourself.com, we will update this page and give you proper attribution!
---