Modernism
Copyright © AFP/Collection Roger-Viollet
Modernism represents a change in perspective of culture within society, in order to look at subjects with a modern viewpoint. This change in view point started to develop in the 19th century where revolutions and wars were prominent, the industrial revolution also began the age of modernity through to the twentieth century. Influential in the early days of Modernism were Sigmund Freud and Darwin who argued on theories of psychology and science, which changed peoples beliefs in religion and creation. Many literary figures including Gertrude Stein, James Joyce and Virginia Woolf further pushed the boundaries of thought and influenced many ideals of the modern day.
The modernist art movement was the first time the term avant-garde was used to represent a new way of thinking in art, with many other art eras including Cubism, Pop Art and Minimalism following, which all have roots within Modernism. The artists who are known for their contribution in modernism include Picasso, Hans Hofmann, Henri Matisse and Piet Mondrian. These artists all painted across different times in history; however their work is seen as iconic for their modern perspective on culture and society.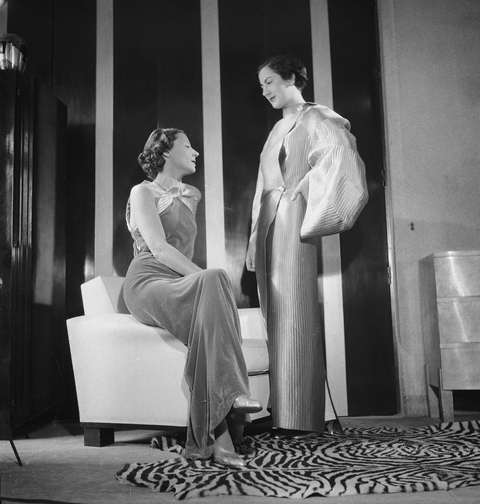 Copyright © AFP / Lipnitzki / Roger-Viollet – Jeanne Lanvin September 1934
At the beginning of the twentieth century, modernism saw a close connection between fashion and art. Art was approached differently, not just as a painting but also as other creations including fashion and textiles. Through the twentieth century, fashion design tracked and echoed trends in art. Starting from the heavily corseted silhouettes of the Art Nouveau period to the patterns and textures of clothes from the Cubist period, Modernism in art and fashion had a very close relationship. A constant figure of the modernist art movement was Paul Poiret. An incurable Orientalist, he brought opulence, a new silhouette and a sense of elegance that has never been equalled, designing the modern luxury was his life's work. Poiret was very interested in modern art and was included in many artistic circles. He joined the fashion and art worlds together by enjoying the work of Impressionists and Fauvists and believing that painters and designers were in the same trade, and therefore should be celebrated together.
Can you help us improve this page? Send us your contribution on dictionary@catwalkyourself.com, we will update this page and give you proper attribution!
---