Roberto Rimondi & Tommaso Aquilano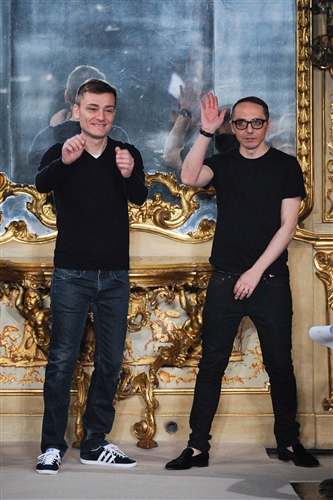 Tommaso Aquilano attended the "Accademia di Costume e di Moda" in Rome, where he learnt a couturier approach to design. Roberto Rimondi studied at Istituto Secoli in Milan, where he learnt a traditional approach to pattern cutting.
In 1988 Aquilano joined the design team at Max Mara, where Rimondi was already working, starting their long-term collaboration.
In 2004 the pair launched their first collection together named 6267 after the number Rimondi's mother wrote on his clothes when he attended summer camps.  The following year they won the young designers 'Who is on Next' competition, sponsored by Atla Roma and Vogue Italia. This led to them presenting their collection at Milan fashion week.
In 2005 Aquilano and Rimondi were appointed as creative director of Malo, the premiere brand for luxury cashmere. Together they presented Malo for its debut show at New York Fashion Week.
In 2008, the pair left Malo and joined Gianfranco Ferré as creative directors of the women's line. Their collections received mixed reviews, Aquilano and Rimondi decided to promote their own label, returning to the ideas of traditional tailoring with contemporary concepts. Their collections have seen the designers play with different volumes and cuts, to flatter women's figures. They presented their first Aquilano Rimondi collection during Milan spring/summer 2009 fashion week.
After falling sales at Gianfanco Ferré, Aquilano and Rimondi were dismissed from the label.
Tommaso Aquilano and Roberto Rimondi are known as designers who focus on quality, fabric, style and fitting. Constantly refining their playful approach to fashion, Aquilano commented to Vogue, "it's the craftsmanship and the quality of fabric and the sense of colour and sense of art."
Roberto Rimondi & Tommaso Aquilano Biography
---