Franca Sozzani
Born: Mantua, Italy 1950
Died: Milan, Italy, 2016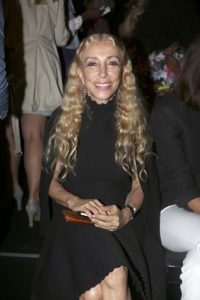 Fashion is full of folly and flamboyance this is a fact known and shared throughout the world. Beyond this facade however, lies a plethora of individuals who all share innovative ideas and thoughts that, in the process, have generated reactions and change – a fashion bluster, if you will. One of these individuals is the forever a rebel, Franca Sozzani, who appears to hold an infinite amount of wisdom through her accessibility to fans and creative types alike. In her own words, she see's fashion with an awareness and this has shaped her work at Vogue which continues to span over 30 years.
Born on the 20th January, 1950 in Mantua; a small city in Northern Italy, Franca from an early age rejected the idealistic, bourgeois lifestyle that was the norm for young women. Marring at 20, Franca ended the marriage after three months and left to head in her own direction. In her own words, she left to, "find my life."
This change in direction landed her at Vogue Bambini in 1976, where she became, as she put it to TIME: "assistant to the assistant to the assistant". Within four years she worked her way up the ranks and was made editor in chief of popular Italian teen magazine, LEI.
By 1988, the same year as Anna Wintour began her tenure at Vogue US; Franca was made Editor-in-Chief of Vogue Italia.
At the time; Vogue Italia could have been seen as commercially gimmicky to the other fashion counterparts and audiences who follow the world of Vogue. It was not as daring and had a system to: "please Italian designers." Once Franca took over the reins, Vogue Italia strode into a new future where Franca explored the avant-garde and championed new creative talent which projected life back into the magazine. She placed a high importance on photography and supermodels, helping to launch the era of the supermodel in the '90s whilst celebrating photographers such as Bruce Weber and Steven Meisel. In 1994, Franca was appointed Editor-in-Chief of Conde Nast Italia which led to the L'Uomo Vogue's Rebranding Africa issue, which was an issue dedicated entirely towards Africa. Featuring cover star, Ban Ki Moon; the issue covered African models, politicians that projected a celebration of African culture and help to lay foundations for international fashion recognition.
Her transformation of Vogue Italia was down to innovative and imaginative shoots that explored not only the synthetic aspect of beauty that still is ubiquitous in magazines across the world but also political and environmental issues. For July 2008's issue, Vogue Italia featured only black models; a move that hit headlines everywhere and sold out in the US in just three days. In June 2011 she featured plus sized models in a 20 page spread that was a pragmatic move made by Franca and showed Vogue Italia's stance and strength on pushing for fashions considered 'undesirables' to be current in the world of fashion. She cemented this as part of Vogue Italia's ethos when she launched sections of their website dedicated to curvy women and black models.
In 2010, the BP oil spill brought around a spread which featured model, Kristen McMenamy drenched in oil on an ocean edge which sparked fierce debate. Her unapologetic nature to the criticism is detriment to her position and independence in an industry that renowned for its exclusivity and at times, ambivalence to issues that cannot be glorified. Franca Sozzani has indeed broken many of fashion's imagery chains.
"I see fashion with very aware eyes. Fashion is a way to give a dream to people, it's a way to research the image, it's a way to talk to everybody without translating because the image and the vision is the only way you can communicate with the entire world without needing a translator close to you." – WFO interview, May 2011
A philanthropist, her work at Vogue has allowed Franca to combine fashion and charity together in a way that highlights important issues, whilst working in fashions favour. She is part of the Green Carpet Challenge which promotes ethical fashion on the red carpet, the World Fashion organisation and Fashion 4 Development which are aimed at helping creative talent the world over by helping to create a sustainable life for individuals. In 2012 she released a design of the Mini Roadster, which debuted at the Life Ball, a benefit to raise money for HIV and AIDS in Vienna. 2012 was a big year for Franca who was knighted by President Sarkozy with the Legion d'honneur and also became a UN Goodwill Ambassador.
Aside from the pages of magazines, Franca has leapt on to the pages of books where she has released several detailing the past 30 years at Vogue: 30 Years at Italian Vogue, L'Uomo Vogue: Style in Progress: 30 Years and Valentino's Red Book.
Franca Sozzani, the esteemed editor-in-chief of Vogue Italia, sadly passed away on December 22, 2016, leaving a profound void in the fashion world. Her death was mourned by the industry, as she was widely regarded as a visionary and trailblazer in the realm of fashion journalism. Her passing, marked the end of an era characterised by her fearless approach to fashion and unwavering commitment to pushing boundaries.
Throughout her career, she had transformed Vogue Italia into a platform for groundbreaking editorials and thought-provoking content, challenging conventions and sparking conversations within the industry, proving that being an editor of a leading fashion magazine is not a label, but a chance to do good and use fashion as a way to promote change and bring to light causes that are in many aspects, unfashionable.
Franca Sozzani Biography
---