Daniel Swarovski
Born: Jiřetín pod Bukovou, Czechia, 1862
Died: Wattens, Austria, 1956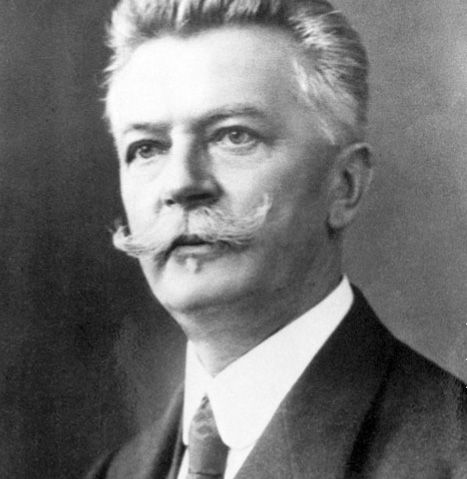 With his father owning a small glass factory, Daniel Swarovski served an apprenticeship under his direction and became skilled in the art of glass-cutting. With his skills developing, Swarovski created an electric cutting machine that improved the production of crystal glass. He patented it in 1892.
In 1895 Swarovski obtained financial backing from Armand Kosman and Franz Weis. Together they founded the Swarovski Company originally known as A.Kosman, Daniel Swartz & Co. The business established a crystal cutting factory in Austria. The area, Wattens in Tyrol was chosen to take advantage of locally produced hydroelectricity which helped reduce the operating costs for the energy intensive grinding process that Swarovski had created.
In 1931 the company launched sew-on crystal studded ribbons. This provided new design and accessory possibilities for manufacturers.
In 1949 the company launched Swarovski Optik. The brand went on to become a leading manufacture of precision optical instruments for hunting and nature observation.
In 1956 Swarovski collaborated with Christian Dior to develop the 'Auroa Borealis' effect, a shimmering finish that enhances the sparkle of cut crystal.
Swarovski started to incorporate crystals into chandeliers and lighting in 1965. Ten years later the company developed a new way to apply crystals to a wide variety of materials called the 'Hot Fix' system. The following year the company started to design crystal figurines.
In 1977 Swarovski launched their first jewellery collection. The Strass Swarovski brand was also launched featuring crystal chandeliers and lighting.
A couture line was launched in 1989 as a tribute to the Companies founder. Four years later Crystal Mesh was developed, a woven mesh of sparkling crystals. Designers' including Chanel, D&G and Louis Vuitton use the mesh today.
In 1999 Swarovski entered into a joint venture with Golay. The co-operation resulted in Signity, a brand for precision-cut genuine gemstones and manufactured stones.
In 2002 the Swarovski chandeliers became an art form and were displayed at the Crystal Palace Collection. Renowned designers reinterpret classical chandeliers every year.
Swarovski developed a new Crystal Fabric in 2003. The material consisted of countless tiny crystals that create a delicate shimmer. Also in 2003, 'Runway Rocks' was founded, a collection of unique almost haute couture crystal for the catwalk.
In 2004 another production method was developed. The Xilion cut increased the brilliance of the crystal through light. The following year Swarovski hosted 'Swarovski Fashion Rocks', a benefit gala bringing together stars from the fashion and music industries. Also in 2005 Swarovski released their first publication, 'A World of Beauty'.
Swarovski took over the lighting company Schonbek World Wide Lighting Inc. in 2007, who were the world market leader in the premium crystal chandelier sector.
In 2009 Swarovski launched its first watch collection. In the same year Swarovski produced a short film, 'Passage', in collaboration with director Shekhar Kapur.
The Swarovski Company is known for its ground breaking techniques with the use of crystal. The business is now iconic for jewellery offering both classic designs and innovative, modern pieces.
Swarovski is involved in various artistic and fashion collaborations that showcase the brilliance of their crystals. They have partnered with renowned fashion designers, music tours, theatre productions, and fashion shows to embellish garments and accessories with their stunning crystals.
For instance, Swarovski has collaborated with Victoria's Secret for their Fashion Show for many years, with models wearing exquisite crystal-adorned outfits. They also worked with renowned musicians like Madonna and Rihanna, who donned Swarovski crystal dresses during their performances. Additionally, Swarovski has been actively collaborating with high-profile fashion designers for various Fashion Weeks around the world, adding their sparkle to the runway.
Swarovski's crystals have also graced theatre productions like Follies and Aladdin in the West End, incorporating millions of crystals into the costumes and set designs. In the world of music, Swarovski crystals adorned Michael Jackson's famous crystal glove.
Apart from the fashion and entertainment industry, Swarovski is known for its annual contribution to the Rockefeller Center Christmas Tree in New York City, providing the star or snowflake that tops the tree.
Swarovski's partnerships extend beyond the realms of fashion and entertainment. They have collaborated with the Design Museum, and they annually host the Designers of the Future Award, recognizing young and talented designers in the field of design and architecture.
Overall, Swarovski's collaborations and contributions have solidified their reputation as a leading name in the world of crystals and luxury adornments.
Daniel Swarovski Biography
---