Costume National
Founded by Ennio and Carlo Capasa in 1986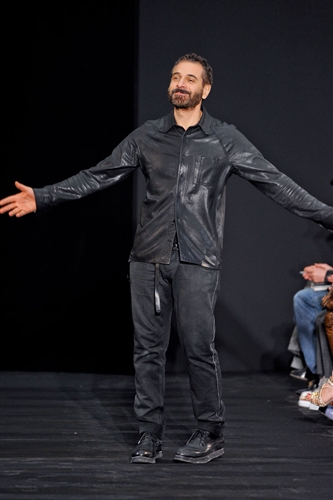 Born in Lecce, South of Italy, Ennio Capasa originally studied at the Brera Academy of Fine Arts in Milan. After graduating, Capasa moved to Tokyo where he worked for Yohji Yamamoto for two years.
Returning to Italy in 1986, Capasa founded his own company, Costume National, with his brother Carlo Capasa. The same year he presented his first woman's wear collection which has led to him showing at Paris Fashion Week, every year since 1989. Two years later in 1991, Costume National presented the 'Woman Collection in Paris'.
Between 1995 and 1998 Costume National opened stores in Milan, New York, Rome, Los Angeles and Paris. Two years later in 2000, a collaboration with Kataweb resulted in a menswear collection digitally streamed online.
The following three years the company expanded its project range to include footwear, fragrances, eyewear, a ready-to-wear collection and a range of accessories aimed at a younger market.
In 2008 the business went online launching a virtual store selling the Costume National and Costume National Homme collection as well as accessories.
With the company interested in eco-friendly fashion and environmental awareness, Ennio Capasa designed a limited edition t-shirt to support climate control in 2008. The following year Costume National again went green, creating their 'Solar Bag'. The bag featured solar panels that charged a hidden battery enabling the user to supply power to mobile phones, iPods and other electrical equipment. The product won the 'Chi é Chi Award' for the best eco-friendly product.
In 2010, Sequedge, a Japanese-Chinese merchant bank, acquired a 17% stake in the company with the opportunity to double their stake by the end of 2011.
Highly successful, the brand has seen icons including Mick Jagger, Heidi Klum, David Bowie, Katie Holmes and Angelina Jolie wear the modern and edgy designs.
With the brands many lines, the company's founder is known for its original and iconographic style. Described as 'edgy chic', Capasa's Italian sartorial skills offer an avant-garde aesthetic. Mixing technology with craftsmanship, Costume National offers a slim and sensual silhouette with a rock and roll edge
Costume National Biography
---