8 Essential Makeup Tools for Achieving Professional Results
---
Posted on
Makeup application is an art form that allows us to enhance our natural beauty and express our creativity. To achieve flawless results, it is essential to have the right tools at your disposal. Here are 8 must-have makeup tools that will help you elevate your makeup skills and create professional-looking results. Whether you're a makeup enthusiast or a beginner, these tools are key to achieving a flawless and polished look.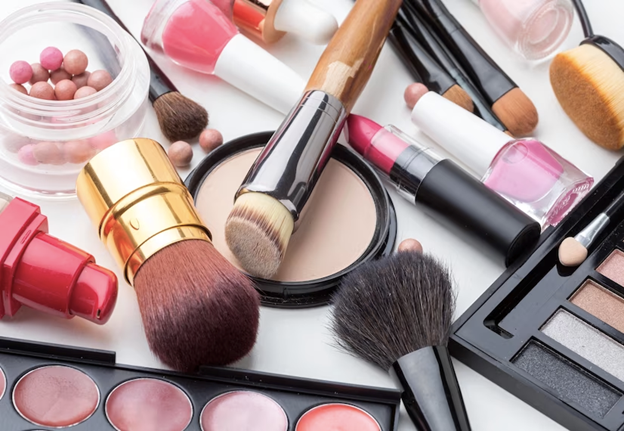 Looking flawless doesn't have to cost you an arm and a leg. You can achieve gorgeous makeup looks with just the right tools. Get all your beauty essentials at Temu, the number one online shopping app to hit the markets!
Foundation Brush or Beauty Blender
To create a smooth and even base, a foundation brush or a beauty blender is a must-have tool. A foundation brush with synthetic bristles helps in achieving a seamless application, while a damp beauty blender provides an airbrushed finish. These tools ensure that your foundation is blended evenly, resulting in a natural-looking complexion.
Blending Brushes
Blending brushes are essential for creating beautifully blended eye makeup looks. Invest in a few different sizes and shapes to accommodate various eye areas. A fluffy blending brush is perfect for diffusing eyeshadow in the crease, while a smaller brush is ideal for precise application in the inner corners and along the lower lash line.
Angled Brush
An angled brush is a versatile tool that can be used for multiple purposes. Its slanted shape allows for precise application of eyebrow products, such as pomades or powders, to define and fill in your brows. Additionally, an angled brush can be used for creating sharp winged eyeliner or precise lip contouring.
Eyelash Curler
Achieving perfectly curled lashes can instantly open up your eyes and make them appear more awake. An eyelash curler is a must-have tool for adding a beautiful curl to your lashes before applying mascara. Look for a high-quality curler with a comfortable grip and replaceable pads for optimal results.
Makeup Sponges
Makeup sponges, such as the iconic beauty blender, are versatile tools that can be used for various purposes. They are ideal for seamlessly blending liquid or cream products, including foundation, concealer, and cream blush. Dampen the sponge for a natural and dewy finish or use it dry for more coverage.
Powder Brush
A fluffy powder brush is essential for setting your makeup with loose or pressed powder. It helps distribute the product evenly, preventing any excess oiliness or shine. Opt for a brush with soft bristles that will gently sweep the powder over your face without disturbing the makeup underneath.
Lip Brush
For precise and controlled application of lip products, a lip brush is a game-changer. It allows you to define and fill in your lips with precision, ensuring a clean and polished look. Additionally, a lip brush helps in extending the longevity of your lipstick and prevents any feathering or smudging.
Makeup Brushes Cleaner
Maintaining the cleanliness of your makeup brushes is crucial for hygienic application and optimal performance. Invest in a makeup brush cleaning tool, such as a silicone brush cleaning mat or glove, to effectively remove product buildup and bacteria from your brushes. Regular cleaning will extend the lifespan of your brushes and ensure a flawless makeup application.
---