Stella McCartney
Nata a Londra, Inghilterra, 1972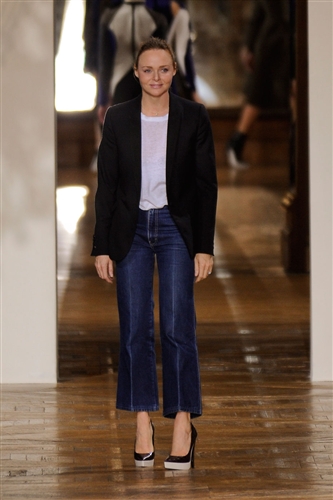 Seconda figlia dell'ex Beatles Paul McCartney e Linda Eastman, l'interesse di Stella McCartney per la moda è iniziato quando ha disegnato la sua prima giacca a 13 anni. Tre anni dopo ha iniziato uno stage da Christian Lacroix a cui è seguito un lavoro per Edward Sexton, il sarto di suo padre di Savile Row.
Con il suo talento crescente, ha frequentato il Central Saint Martins College of Art and Design, iscrivendosi a un corso di fashion design. diplomatasi nel 1995, la sua sfilata finale ha avuto come modelle le sue amiche, Naomi Campbell, Yasmin Le Bon e Kate Moss, tutte gratis.
La sua sfilata è stata un successo e l'intera collezione è stata acquistata da Tokyo, una boutique di Londra e le licenze dei suo modelli venduti a Browns, Joseph, Bergdorf Goodman e Neiman Marcus.
Nel 2001, McCartney ha lasciato Chloe per lanciare la sua casa di moda con l'aiuto del gruppo Gucci. La sua prima collezione ha sfilato a Parigi nello stesso anno. Due anni dopo ha lanciato il profumo 'Stella'.
Nel 2004 McCartney ha lanciato un'iniziativa con Adidas, disegnando una linea sportiva per donne. Nel 2005, Mccartney ha collaborato con H&M per una collezione. i modelli sono andati sold out immediatamente nel mondo. Nel 2008 è stata aggiunta una linea di lingerie all'azienda con un portfolio che già includeva pret-a-porter, accessori, occhiali, profumi prodotti per la pelle. Due anni dopo è stata lanciata una linea per bambini.
Nel 2011, McCartney ha disegnati i costumi il New York City Ballet's Ocean's Kingdom. McCartney ha disegnato la linea sportiva per le squadre olimpiche e paraolimpiche dei Giochi Olimpici e Paraolimpici di Londra 2012 in collaborazione con Adida.
Con più di 15 negozi nel mondo, lo stile di Stella McCartney è lavorato finemente con una femminilità sexy. I suoi modelli parlano di una sicurezza naturale ed essendo McCartney una vegetariana, non usa mai pellame o pelliccia nei suoi modelli.
---