Matthew Williamson
Nato a Manchester, Inghilterra, 1971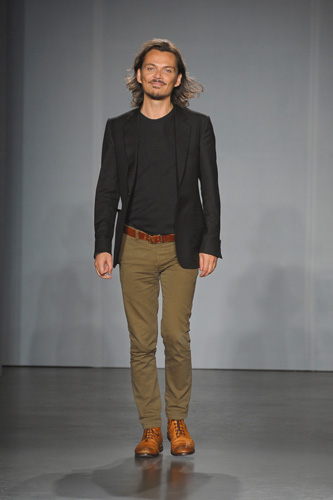 Ha studiato Fashion Design e Tessuti Stampati alla Central St Martins, Matthew Williamson si è laureato nel 1994. Dopo la laurea, ha iniziato a lavorare freelance su progetti con Marni che lo hanno portato poi a disegnare per Monsoon e Accesorize.
Nel 1997, Williamson ha lanciato la sua casa di moda- Matthew Williamson, con l'appoggio di Joseph Velosa. Il suo show di debutto alla settimana della moda di Londra , 'Electric Angels' ha avuto top model come Kate Moss, Helena Christensen e Jade Jagger. Con abiti tagliati di sbieco, colori accesi e dettagli intricati, Williamson ha dato l'impronta alla sua estetica.
Nel 2002, Williamson ha tenuto una sfilata per la prima volta alla settimana della moda di New York. Due anni dopo, ha aperto il suo primo flagship store a Londra. Nel 2005 Williamson è diventato direttore creativo di Emilio Pucci, mentre ha continuato a disegnare per il suo marchio. Lo stesso anno, l'azienda di Williamson ha lanciato una linea di fragranze.
Nel 2007 Williamson ha celebrato il decimo anniversario del marchio alla settimana della moda di Londra che ha incluso una performance di Prince. È stata tenuta anche una mostra al Design Museum a Londra, intitolata 'Matthew Williamson- 10 anni nella moda'.
Nel 2008, è stato premiato con il 'Red Carpet Designer of the Year' ai British Fashion Awards. L'anno dopo, è stato aperto il primo flagship store negli Stati Uniti a New York, seguito da un negozio a Dubai. Poco dopo, sono stati creati negozi e-commerce in Europa e negli Stati Uniti.
Nel 2009, Williamson ha fatto una collaborazione con H&M, per uomini e donne, mettendosi alla prova per la prima volta con l'abbigliamento maschile.
Nel 2010 è stata disegnata una capsule collection esclusiva per Harrods e per i flagship store. L'anno dopo è stata creata una linea di abbigliamento maschile. Nel 2011 è stata lanciata anche una linea di diffusione 'MW by Matthew Williamson' per un target più ampio.
Famoso per le sue influenze indiane, Matthew Williamson usa colori accesi e dettagli intricati per produrre abiti meravigliosamente ispirati.
---