New York Fashion Week booted out of Lincoln Center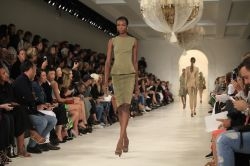 The ruling was reached after the fashion extravaganza, run by IMG Worldwide Inc, was accused of misusing Damrosch Park, where trees and perennial plantings were removed.
Under the decision, special events should be the exception rather than the norm, and so the twice annual event will not be able to renew its five-year license when it expires in February.
Neither will the park be able to host similar such events.
The city is now working actively with IMG Fashion to find alternative locations for Fashion Week, which earns New York nearly $900 million, and which has been based at Lincoln Center since 2010.
"Upon the expiration of its sublicense agreement, IMG Fashion shall vacate the premises and remove all tents and other Fashion Week equipment from the park," said the settlement
The agreement was signed by Margaret Chan, a New York state supreme court judge.
New York Fashion Week has anyway increasingly moved away from Lincoln Center, with some of the most prestigious designers chosing to hold catwalk shows in hotels or other prominent buildings.
Damrosch Park will be replanted with shrubs and trees.
---