Charlotte Olympia Meets Spiderman, Vetements x Tommy Hilfiger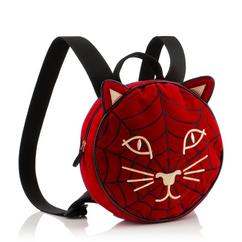 Charlotte Olympia Meets Spiderman, Vetements x Tommy Hilfiger
Your friendly neighborhood Spiderman-inspired shoes have arrived, courtesy of Charlotte Olympia's collaboration with Marvel. In honor of the release of Spiderman: Homecoming, Charlotte Olympia and Marvel teamed up to release a capsule collection of Spidey-themed shoes for women and children.
The capsule collection features 5 pieces ranging in price from $295-1,825, and includes a child's backpack, two pairs of children's shoes, a platform sandal and a clutch. CLearly inspired by the famed web-slinger, the Charlotte Olympia website states that, "with great power come great accessories. The signature Charlotte Olympia spider theme takes on new meaning with the Spider-Man capsule collection, celebrating the upcoming release of Marvel's 'Spider-man: Homecoming'."
The brand's emblematic kitty decorates the children's shoes and backpack, superimposed over webbing in classic Spiderman red and black. The platform sandals and matching clutch come in black, featuring pearlescent web designs, and a gold, metal spider and frill decorate the front of the clutch.
The Incy Spiderweb Backpack and the Spinderella Clutch are available for pre-order; the three pairs of shoes are available now to purchase.
This past weekend, Tommy Hilfiger announced via his personal instagram that a collaboration between the Tommy Hilfiger brand and Vetements will come out this fall. "I was very excited. What they've done is quite genius," Hilfiger remarked in regard to Vetements x Tommy Hilfiger. "They have their own rule book. They do what they want and do it when and how they want."
Hilfiger is known for currying trend, including featuring the hottest models of the moment (even collaborating with them, in the case of Gigi Hadid). Vetements has become known for their own collaborations, including in their Spring 2017 collection that featured collaborations with Comme des Garçons, Dr. Martens, Levi's, Manolo Blahnik, Reebok and more.
The fall collection will be unisex, featuring shirts, beanies, socks, and hoodies. "The fact that a disruptive designer like Demna [Gvasalia] would want to do something with our brand is a tremendous compliment," Hilfiger commented. The Vetements x Tommy Hilfiger collaboration will be available in February at Barneys New York, Harrods and Collette.
Charlotte Olympia Meets Spiderman, Vetements x Tommy Hilfiger
---