Anna Wintour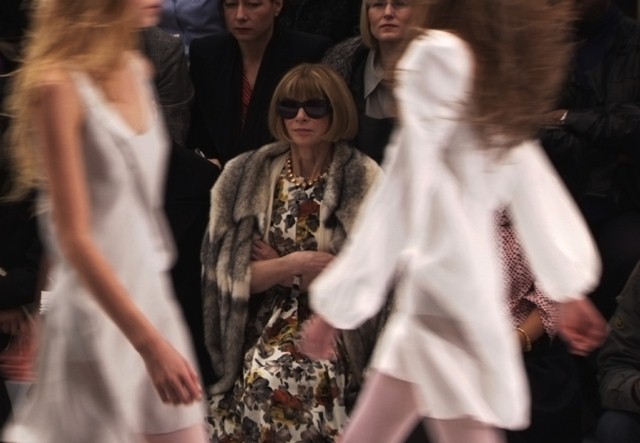 What can you say about the woman who was the first to bring the world's attention on Alexander McQueen, John Galliano and Zac Posen? We'll give it ago…
It is important to note at this point that Anna Wintour is not a fashion icon. Anna Wintour is fashion. As the leader of the Fashion World her decisive nature and precision to detail has led to Vogue becoming the most successful fashion magazine in the world. With controversy surrounding her less than fashionable personality at times, she still is the person that brought us some of today's most celebrated designers.
Born on the 3rd of November, 1949 in London to Charles Wintour, the Editor of The Evening Standard and began her life with a open eye on the swift change fashion was about to succumb to. Even in her youth she was rebellious and stubborn when she shorten the hemline on her school skirts
Anna was fully encroached during the fashion overhaul of the 60s and it no doubt helped shape her in terms of her extensive knowledge and open sense of fashion. Her career began in 1970 at Harpers Bazzar UK before moving off to America to continue with Harpers Bazzar working as a Junior Fashion Editor. She was fired 9 months later for her too provocative fashion spreads, something which upset the future fashion queen.
British Vogue was Anna's first taste of the company she would later covet, and finally in 1988, after years of dreaming, she got it. Anna's first issue was in 1988 and featured model, Michaela Bercu wearing jeans (a first for Vogue) and a Christian Lacroix bejewelled T shirt worth $10,000. Her whirlwind change of the magazine began almost immediately focusing more youth into the magazine whilst imagining a business savvy women with a penchant for fashion.
Anna's own style has become something of a status, donning her signature bob and black sunglasses she already creates the elusive, Anna Wintour look. Before her reign however, Anna was something of a style nympho, wearing an eclectic collection of high fashion sexy and wacky fun prints. This turned regal once she came to Vogue, perhaps due to her stance within the fashion industry, and her seriousness over her role.
The light, conservative attire, usually a Chanel suit or cardigan draped over a dress or a creation by Prada acts as a solution to Anna's working, with a nifty $200,000 clothing allowance from Vogue's publishers. Her sunglasses have become more famous than her glare with Wintour professing that they are extremely useful at hiding her emotions which only adds to Wintour's overall alienation of people outside the fashion realm.
She has worked hard, bring to the forefront Marc Jacobs, who she champions along with John Galliano, helping him come into his own at Dior. She critiques some of the most invaluable designers across the fashion field and has lead to such nicknames as 'Nuclear Wintour' for her apparent mood swings.
She has always been fashions best kept secret in terms of her actual running of Vogue, with many rumours spawned from the corridors of the fashion bible. Events like an intern stepping over a fallen Wintour because she was not to be spoken to, to getting her assistants to fish through trash to look for that one photo she wanted.
She is however, not the total monster the press can make her out to be. She currently sits on the board of the Metropolitan Museum Costime Institute which raises funds for the Institute, bringing together some of the worlds most notable people. In 2003 Vogue partnered with the CFDA to created the Vogue Fashion Fund, a chance for Manhatten designers to get on the fashion ladder and has proved to be invaluable with the likes of Alexander Wang, Proenza Schouler and Thakoon all being past recipients. Helping emerging talent and keeping historical talent has become very much part of Anna Wintour's legacy for the arts, but what about fashion as a business? Que Fashion's Night Out, a night of splendour and sparkle as thousands of stores across the globe, stay open late allowing for fashion folk and consumers to come together and celebrate fashion.
Anna Wintour, an enigma in the public eye but as person perched on top of the Vogue Masthead, she holds a title and place where many would kill to be. Yet, she regains her post with over 20 years at Vogue, and as fashion's Pied Piper, she shows no sign of slowing.
---