Riccardo Tisci
Geboren: Taranto, Italien 1974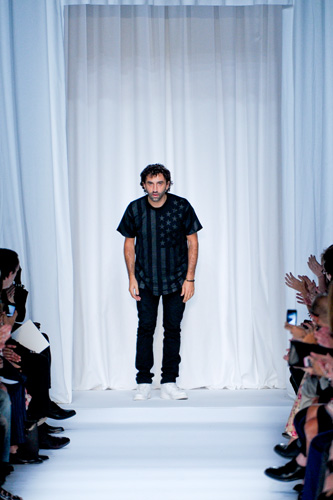 Der in Italien geborene Ricardo Tisci wuchs mit acht Schwestern auf. Mit 17 zog er nach London, um am Central Saint Martins College of Art and Design zu studieren. Nach seinem Abschluss 1999 kehrte er nach Italien zurück und arbeitete für Marken wie Puma, Missoni, Justin Oh und Coccapani. Darauf sicherte er sich einen Dreijahres-Vertrag mit Ruffo Research, die besonders junge Designer förderten. Als 2004 sein Vertrag auslief, begann Tisci mit dem Entwerfen einer eigenen Kollektion und präsentierte seine Designs während der Mailänder Fashion Week 2005. Bei diesem Anlass wurde das Modehaus Givenchy auf ihn aufmerksam und machte ihn zum neuen Creative Director. Tisci war zunächst unsicher, da er sich eigentlich auf ein eigenes Label konzentrieren wollte, sagte aber wegen finanzieller Schwierigkeiten in der Familie zu. Als Nachfolger Gallianos fielen Haute Couture, Ready-to-Wear und Accessoires in seinen Zuständigkeitsbereich. Tisci brachte das Label in eine neue Dimension und feierte besonders mit der Couture-Linie große Erfolge. 2008 designte er außerdem unter dem Givenchy-Label die Outfits für Madonnas 'Sticky & Sweet Tour' und betreute das A-Magazin bei einem seiner Ausgaben.
2010 sorgte er für die erste Aufregung in seiner Karriere als er das erste transsexuelle Model, Lea T, auf dem Laufsteg präsentierte. Der Designer und das Model kannten sich über Jahre und Tisci sprach nur gute Worte über sie.
Ricardo Tisci ließ das Givenchy-Label zu neuem Leben und neuer Vision erwachen. Romantik mit einer dunklen Seite, Religion-inspiriert und modern
beschreibt seine Ästhetik. Nach den Spekulation um den Nachfolger Gallianos bei Dior galt Tisci ebenfalls als großer Favorit.
---