Riccardo Tisci Departs Givenchy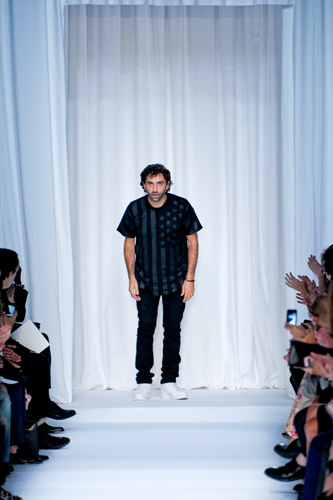 Riccardo Tisci Departs Givenchy
It's been a busy day for fashion – among other broadcasts, Riccardo Tisci's departure from Givenchy was announced by the house today. After 12 years at the house, Tisci's final men's and womenswear collections ran side by side this past month. This coming September's ready-to-wear line will be designed by the in-house team.
"The chapter Riccardo Tisci has written with the house of Givenchy represents an incredible vision to sustain its continuous success," LVMH Moët Hennessy Louis Vuitton chief executive Bernard Arnault said in a statement, "and I would like to warmly thank him for his core contribution."
Tisci's run at Givenchy is continually referenced due to its long stand, as well as the legacy Tisci has crafted for the brand since his beginning in 2005. Succeeding legendary designers like Alexander McQueen, Julien MacDonald and John Galliano, Tisci gave the brand a fresh uniformity and reliability that, until today, stood apart in the otherwise tumultuous industry. The Italian designer also drew fresh celebrity fans to the house, including Beyonce, Madonna, Meryl Streep, Justin Bieber, David Beckham and Victor Cruz.
"When I started at Givenchy, I was bored with fashion for men," Tisci told GQ back in 2012. "Street culture? They don't care. They don't give a shit. They wear what they want. Bermuda, big and small. T-shirt oversize or T-shirt tiny. Prints. Bombers."
Though sad for many, this departure has been classified as "mutual and amicable," ending officially on January 31st at the conclusion of his contract. "I want to thank the LVMH group and monsieur Bernard Arnault for giving me the platform to express my creativity over the years," was Tisci's cryptic statement. "I now wish to focus on my personal interests and passions." Rumours continue to circulate, as they have been for several weeks now, that Tisci will join Versace. No successor has been named as of yet.
Riccardo Tisci Departs Givenchy
---