Expert tips on choosing a wedding dress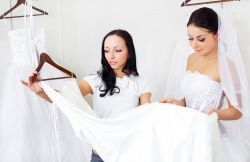 How long before the wedding should one start looking for the dress?
Ideally six to eight months, depending on the date of the wedding (for weddings between May and September, I consider eight months to be the minimum).
What are the elements to always keep in mind when setting out to choose a dress?
 It is certainly necessary to choose designers whose styles suit us, to avoid looking at too many dresses, to try on dresses with as few people around as possible so as to avoid getting distracted, and to go straight to the essential and to what one really wants!
What are the main types of dresses, and which body types best correspond to them? 
There are four or five basic silhouettes: the low-waisted bloussant, the fitted mermaid shape, straight cuts, dresses with accentuated waists, and bell shapes. A bell shape or a 50s-style cut will better suit a more voluptuous bride, while a mermaid shape will suit a more slender woman.
Are there fabrics to avoid?
Shiny fabrics such as satin, which tend to make one look fatter. I prefer matte fabrics or alternatively iridescent ones such as silk gazar.
What type of dress should a pregnant bride choose? 
An empire waist dress would be classic and effective, but I prefer to be more unpredictable and suggest a slightly rock'n'roll-style bell-shaped top with cut outs and a straight crepe skirt with a train.
How far ahead of the wedding should the bride try on the dress one last time? 
Two to three weeks.
---