Chanel and the Ritz for Pre Fall 2017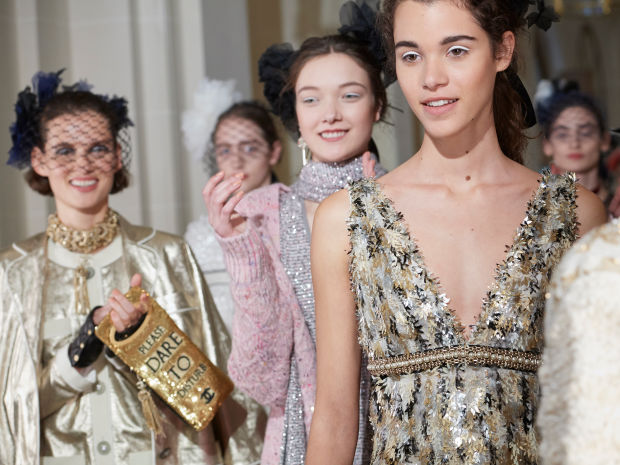 Chanel and the Ritz for Pre Fall 2017
Chanel is paying a huge tribute to their founder and heritage this year during its 13th Metiers d'Art show at the Ritz Hotel in Paris. Reminiscing Mademoiselle Chanel herself, the show had pillbox hats, tweed suits and infamous netted veils. The designer spent time living in a suite in the hotel, during World War II, during the controversy of her affair with German intelligence officer, Baron Hans Gunther von Dincklage.
Cara Delevingne made a comeback at the show, followed by fellow actress Lily-Rose Depp – daughter of Johnny Depp. Other guests included actresses Jada Pinkett-Smith, Willow Smith and Pharrell Williams.
"The Ritz is very Paris, but men and women from all over the world come here, so it is a temple of cosmopolitan elegance."  – Karl Lagerfeld told reporters after the show.
The annual show celebrates the artistry of Chanel's small team of craftsmanship and atelier, captivating key moments through the brands timeline. The designs paid tribute to the "Cafe Society" evening dresses once worn at the hotel – with pleats and embroideries. The nostalgia of the classic Chanel uniform was infused with modernity in the form of beanies, oversized jackets, and chunky necklaces.
In previous years, Chanel has traveled to Rome, Salzburg, Dallas, Edinburgh, Mumbai and New York. This year, Karl Lagerfeld wanted to show support to Paris, as it's tourism has been declining since the series of deadly extremist attacks. French culture minister joined Pharrell Williams at the event to help create the bold statement as a fashion house, and as a part of French Culture.
"Paris has such a bad reputation with the Paris bashing all over the world… that I thought it would be fun," Lagerfeld said.
Chanel and the Ritz for Pre Fall 2017
---